However you pronounce SOU, we sure like it.
SOU's hanger steak gets a flavor punch from beef fat gochujang aioli.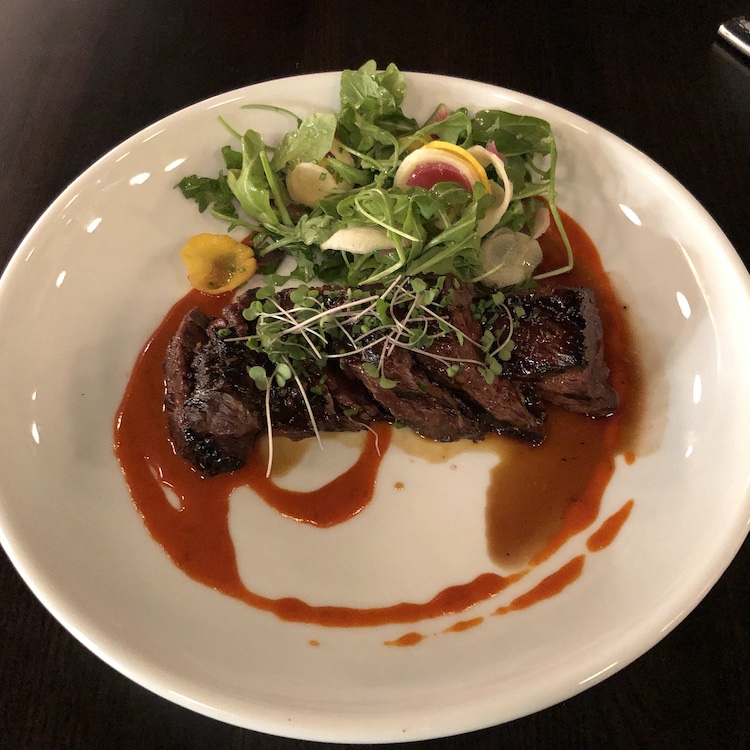 SOU might mean "South." It could represent "soul." Yet the proper way to pronounce the name of this new Plainview-area eatery is not "sow" or "soo" but "So-you." Intentional ambiguity seems to lie at the heart of this upscale dining room in a thoroughly renovated former Skyline Chili parlor, and that's all right.
SOU is the joint effort of Chef James Moran, who honed his skills as chef at 8Up and the Pine Room, and his business partner, Ashley Saylor, who's worked on the events side of the hospitality business.
Together they've eliminated all vestiges of Cincinnati chili from what is now a stylish, if rather spare, space in beige, gray and black. Large windows punctuate the walls, offering views of a vast expanse of suburban shopping-center parking lot. A large, U-shaped bar fills the center of the room, and more bar stools are strategically placed to afford diners a clear view of Moran's busy open kitchen.
In the rest of the room, undraped wood tables stained almost black are placed under straight rows of pendant lights. The tables are set with attractive flatware, dark cloth napkins, and good quality glassware.
I'd call Moran's dinner menu more international than Southern; it also shows signs of his Asian heritage via his mother, who was born in Korea. The seven entrees range in price from $17 (for a hefty Kentucky Black Hawk Farms beef burger) to $37 (for a Kentucky Proud rib eye steak). A half-dozen appetizers and three salads are priced from $10 (for a Caesar salad) to $17 (for a pan-seared scallop app). ...
Read the full review on LouisvilleHotBytes,
http://www.louisvillehotbytes.com/we-like-sou
You'll also find this review in LEO Weekly's Food & Drink section today.
http://www.leoweekly.com/category/food-drink/
SOU
9980 Linn Station Road
614-6499
https://facebook.com/SOU502
Robin Garr's rating:
90 points.
Noise level:
The room was only partly filled on a Sunday evening, but hard surfaces do bounce noise around; still, we could hear each other speak. (Average sound was 78dB, at the upper end of the conversational range.)
Accessibility:
Built as a fast-food eatery, the restaurant is accessible to wheelchair users save for tall stools at the bar and two high-top tables. The restrooms have accessibility facilities.