Cozy comfort and creative cookery at Hearth on Mellwood
Hearth's Marksbury farm pork chop with chocolate guajillo sauce and tomatillo chow-chow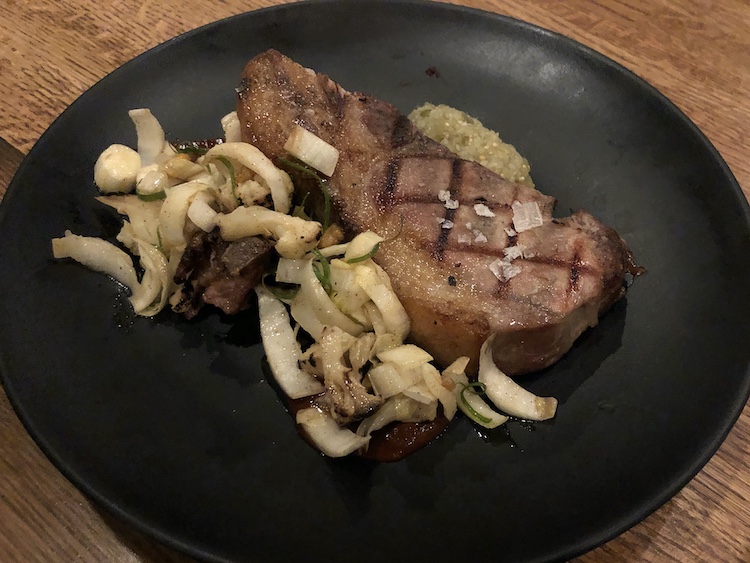 The bright mustard-yellow exterior paint job that made Bistro 1860 (2013-2018) stand out is gone, replaced by tasteful off-white with light sage-green trim. The huge 54-unit Cruvinet wine dispensing machine that made L & N Wine Bar (2004-2012) special is gone, too, a victim of disuse.
But the latest occupant in the historic 19th century brick farmhouse at the corner of Brownsboro Road and Mellwood Avenue, Hearth on Mellwood Eatery (2019- ), is looking good.
We dropped in for dinner with friends recently and found chef Jason McCollum's fare creative and exemplary. McCollum and his wife and co-owner Aenith, who also operate Chik'n & Mi nearby, have built a dining destination here since its August opening.
Hearth on Mellwood Eatery's acronym is "home," and renovations have achieved a homey look, assuming that your home is a 159-year-old farmhouse. The large black-and-white checkerboard floor has been replaced by wood-look flooring, and the exposed red-brick walls now bear a dozen mirrors in antique gold-look frames. Each of the three dining rooms still sports a gas fireplace, which looked mighty cozy on a chilly evening.
The menu is largely sourced from regional farms, and it frequently changes depending on what's seasonal and available in the local market. Its seven entrees are priced from $16 (for a Black Hawk Farms Kentucky brisket burger) to $34 (for a seared Farmer Joe's Kentucky duck breast). ...
Read the full review on LouisvilleHotBytes,
http://www.louisvillehotbytes.com/comfo ... h-mellwood
You'll also find this review in LEO Weekly's Food & Drink section today.
http://www.leoweekly.com/category/food-drink/
Hearth on Mellwood Eatery
1765 Mellwood Ave.
365-2239
http://hearthonmellwoodeatery.com
https://facebook.com/hearthonmellwood
https://instagram.com/hearthonmellwood
Robin Garr's rating:
89 points.
Noise level:
Most tables were occupied on a busy Saturday night, but it wasn't too loud to chat with our table mates. (Average sound was 79dB, conversational but on the loud side.)
Accessibility:
The historic building has been brought up to date and appears fully accessible to wheelchair users.