Lola's Kitchen, Filipino food for a "Happy lunchtime"
Lola's Kitchen's chicken and pork adobo on a bed of rice.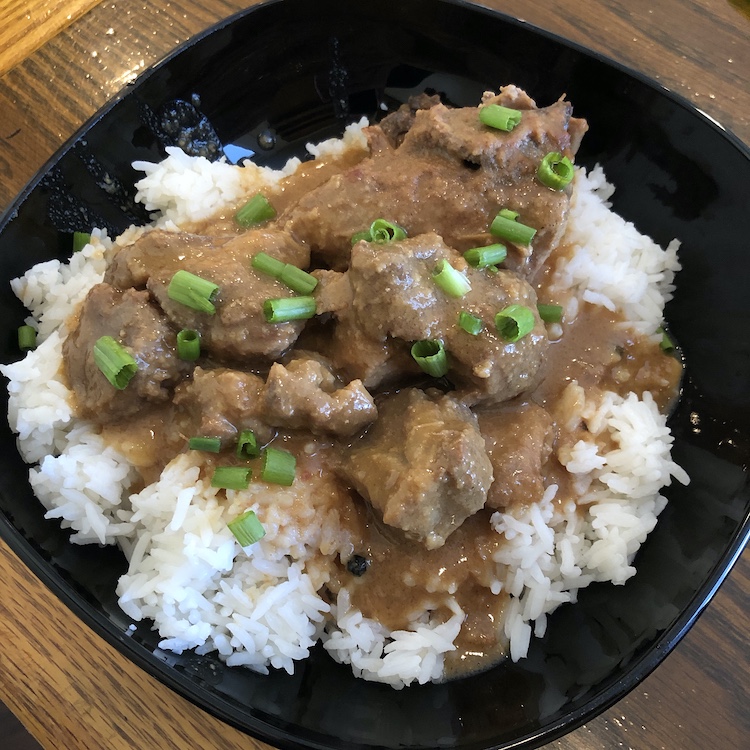 If language reflects culture, then it's fair to assume that the people of the Philippines love to eat. Tagalog, the Filipino national language, is the only language I know with a special greeting, tucked between "good morning" and "good afternoon," to wish people a good lunchtime.
So let's say "Magandang tanghali po" to Lola's Kitchen, serving Filipino fare in the Clifton quarters long occupied by Zen Garden.
Who's Lola? That's the Tagalog word for grandmother, explains owner and executive chef Nick Hans, who cites his own Filipina grandmother as inspiration for him to offer Louisville a taste of the family-style cooking of the Philippines, using natural and local produce.
What's Filipino cuisine like? For many of us, a menu with Filipino food names like kare-kare (simmered beef and veggies in a peanut sauce), sinigang (tangy pork and tamarind soup); tap-si-log (fried marinated beef and rice), and pancit bihon (skinny noodles) is going to need some explaining. Happily, Lola's servers are friendly and helpful, and the menu briefly but clearly explains every dish.
As a nation of 7,000 islands with a history of 300 years under Spanish rule and 50 years of American rule interrupted by harsh Japanese occupation during World War II, Filipino cuisine spices its own traditional fare with culinary influences from Spain, the U.S., the Pacific islands, and even China.
The menu lists 12 dishes that range in price from $9.95 (for chicken arroz caldo, a garlicky comfort-food chicken-and-rice porridge) to $15.95 (for crispy pork pata, a braised, then deep-fried pork shank).
Also, if you're bold, you might like go gather at least four friends and reserve a boodle fight or kamayan ("eating with the hands") for $32.99 each, $11.99 for those under 12. This Filipino tradition dispenses with cutlery and dishes: A massive feast is spread atop a trestle table lined with banana leaves. Diners, sans flatware, dig in. "Filipinos demonstrate their love by offering food to one another. Kamayan is Lola's way of sharing an amazing experience by celebrating the love of good food and good times," according to Lola's website. "And it's fun."
The new owners have spruced up the interior of the restaurant. It's light and bright, with white walls in the front section; warm papaya color in the back. Wooden tables and simple chairs are situated on dark wood floors. An antique wooden fireplace mantel and a wall nook are filled with potted plants and Filipino tchotchkes, and the walls are covered with bright paintings depicting Philippines rural scenes with water buffaloes, dormant volcanoes, and smiling farmers harvesting rice. ...
Read the full review on LouisvilleHotBytes,
http://www.louisvillehotbytes.com/lolas-filipino
You'll also find this review in LEO Weekly's Food & Drink section today.
http://www.leoweekly.com/category/food-drink/
Lola's Kitchen
2240 Frankfort Ave.
290-6649
http://lolaskitchenky.com
https://facebook.com/lolaskitchenn
https://www.instagram.com/lolas_off_frankfort
Robin Garr's rating:
80 points.
Noise level:
The room was quiet for a Sunday lunch, with only two or three tables in use. (Average sound was 71dB, on the low side of the level of normal conversation.)
Accessibility:
A long wooden ramp provides access to the entrance on the side of the building, but a porch with three steps bars accent from the front.