District 6 brings a taste of Vietnam to St. Matthews
Tofu and avocado Banh Mi at District 6.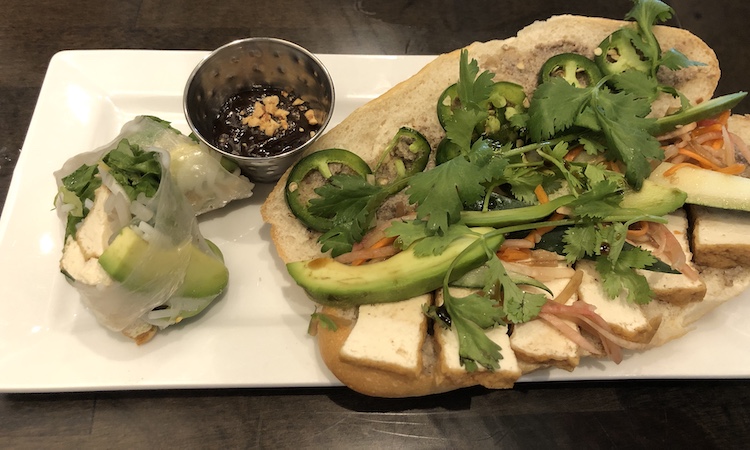 If you think "District 6" is an odd name for a Vietnamese restaurant, think again. This moniker honors the heritage of its owners, Hanh Duong, Tram Thai, and Vinh Thai, whose parents hail originally from the District 6 neighborhood in Ho Chi Minh City, Vietnam, formerly known as Saigon.
Ho Chi Minh City's District 6 is part of the city's Chinatown, loaded with Thai, Chinese, and Vietnamese restaurants and bars as well as a huge flower market, Buddhist pagodas, and craft stores offering iconic conical nón lá bamboo palm leaf hats.
The restaurant picks up some of that vibe in its decor: nón lá hats line a wall; abundantly filled flower boxes hang on another wall, and a golden Buddha statue sits on a divider. The walls of the long, narrow room offer a colorful mix of exposed brick, subway tile, and Wedgewood blue. A long banquette lines one side, with a short bar on the other. Undraped black tables at the front and back are served by bright-yellow metal chairs.
The menu offers familiar Vietnamese dishes, but adds culinary forays to Thailand and China and even Mexico.
The main menu can get a bit spendy if you go for a fancy fish dinners such as black cod steamed in banana leaves ($29) or crispy fried whole fish ($21). The seven other signature dishes (entrees), though, land in the affordable range from $10 (for spicy bacon, egg, and cheese fried rice) to $16 (for several dishes including baby back ribs, drunken beef, and Hanoi chicken). Pho and other noodle bowls are all $12, and small plates and shareables are $6 (for spicy street corn or crisp fried tofu) to $12 (for several items such as spring rolls, shrimp rolls, wontons, and more).
For an even better deal, the lunch menu offers sharables, sides, and a combo including a generously portioned entree, a side, and a soft drink, all for $12. ...
Read the full review on LouisvilleHotBytes,
http://www.louisvillehotbytes.com/district-6-vietnam
You'll also find this review in LEO Weekly's Food & Drink section today.
http://www.leoweekly.com/category/food-drink/
District 6 Gastropub
3930 Shelbyville Road
873-5561
http://eatdistrict6.wixsite.com
https://facebook.com/EatDistrict6
https://instagram.com/EatDistrict6
Robin Garr's rating:
89 points.
Noise level:
The sound level swelled a bit as the lunch hour crowd grew, but conversation remained easy. (Average sound was 72dB, the level of normal conversation, with occasional brief, shrieking peaks to 90dB.)
Accessibility:
The restaurant and restrooms are generally accessible to wheelchair users, although a threshold bump at the entrance might be a chore for some.