Biscuit Belly boosts the biscuit trend
Fried chicken on a biscuit with Capriole goat cheese? That's the G.O.A.T. at Biscuit Belly.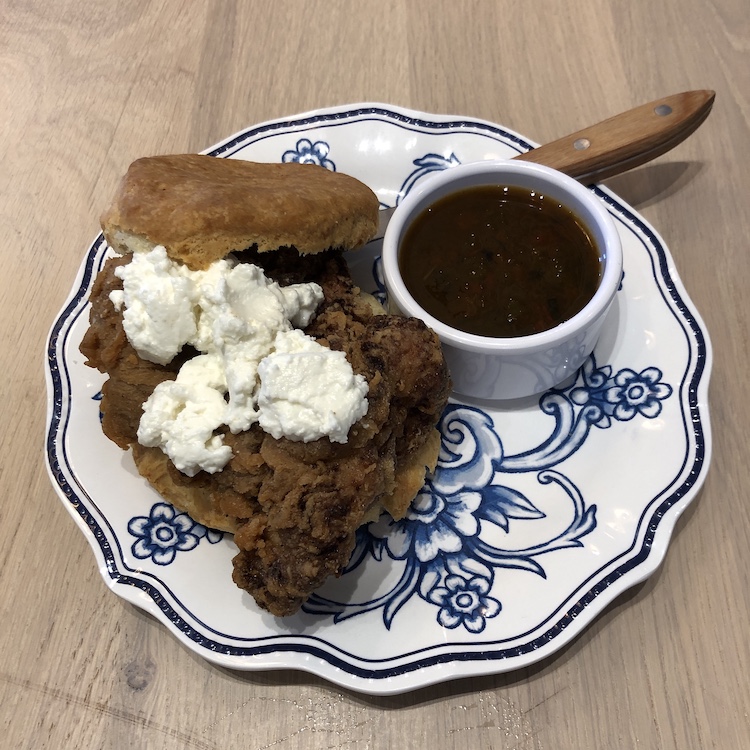 "The next wave of hot restaurants could be a basket full of biscuit concepts," the trade journal Restaurant Business prophesied in 2016, focusing on Cracker Barrel's planned biscuit-eatery spinoff Holler & Dash.
Heck, it could have mentioned the Florida-based Maple Street Biscuit Co. chain, which opened in 2012, and even the long-standing West Virginia-based chain Tudor's Biscuit World, which opened in 1980. 
More recently, Louisville's own Boujie Biscuit in Clifton has been delighting diners with its oversize, towering square biscuits for about a year now.
And now we know it's trendy because biscuit dining has arrived in Nulu! Say hello to Biscuit Belly, a spot so popular that its brunch-hour crowds line up around its Main Street block.
Biscuit Belly is situated on the main floor of the beautifully restored 19th century DeHart Paint & Varnish Co. building . It fills a sizable, bright and colorful space framed by oversize windows and flat white and bold wooden plank walls, with bright yellow and turquoise accents.
The menu is biscuit-driven, of course, with 20 creative dishes created by Biscuit Belly's team of Chad Coulter and Tavis Rockwell, the minds behind Louisville's LouVino restaurants. ...
Read the full review on LouisvilleHotBytes,
http://www.louisvillehotbytes.com/biscuit-trend
You'll also find this review in LEO Weekly's Food & Drink section today.
http://www.leoweekly.com/category/food-drink/
Biscuit Belly
900 E. Main St.
409-5729
http://biscuit-belly.com
https://facebook.com/biscuitbellynulu
https://instagram.com/biscuitbellynulu
Robin Garr's rating:
88 points.
Noise level:
Our party of three had no difficulty carrying on a conversation. (Average sound was 72dB, comparable to living room background music, occasionally peaking to a shrill 91dB, akin to a nearby motorcycle.)
Accessibility:
The shopping center space is accessible to wheelchair users, but front-door thresholds have a bumpy concrete fill that could require a strong push to bump over.