La Catrina deliciously satisfies our taco craving
Tacos dorados at La Catrina are stuffed with potato​e​s, pork picadillo or chipotle-braised chicken and deep-fried crisp and golden.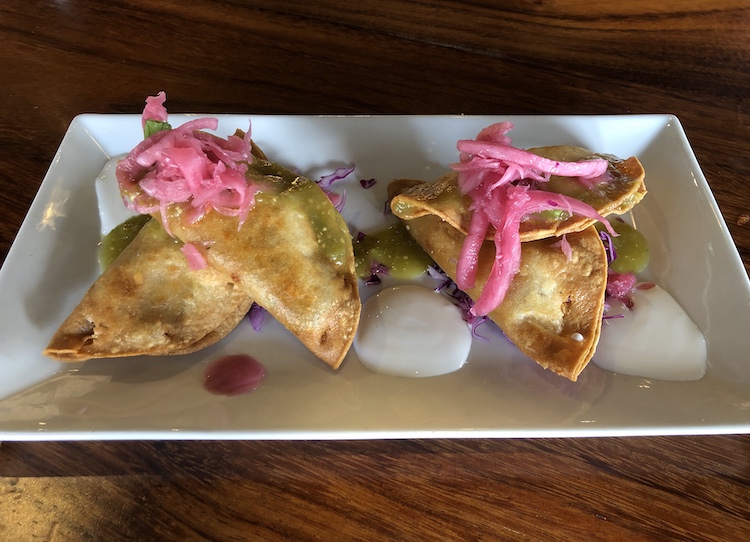 While I was binge-watching the
Taco Chronicles
on Netflix last week, I got to the sequence on
carnitas
, and immediately realized that I had to get up and go either to Michoacán or, at the least, to a really good local taqueria. Once I checked my wallet, La Catrina Mexican Kitchen in New Albany got the nod.
So we turned off Netflix, headed across the Sherman Minton bridge (no tolls!) and pulled up right across the street. You can't miss La Catrina, with its huge, bright
Dia de los Muertos
skull painted on the corner facing Elm and Bank streets. The place was packed, and the overhead doors were rolled up, turning the entire dining room into a large open-air street-food cantina.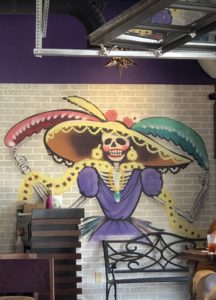 Decor is industrial-chic, with painted brick walls splashed with colorful Day of the Dead images, including the restaurant's namesake, La Catrina with her feathered sombrero, one of the most iconic Day of the Dead figures. Sturdy wood tables and heavy wooden chairs set the scene . Simple flatware is rolled in white paper napkins.
Chef Roza Segoviano, who owns La Catrina with her husband Juan, has put together an extensive, all-English, nearly all-taco menu. (The couple also owns the five-shop local Señor Iguanas chain.) ...
Read the full review on LouisvilleHotBytes,
http://www.louisvillehotbytes.com/la-ca ... co-craving
You'll also find this review in LEO Weekly's Food & Drink section today.
http://www.leoweekly.com/category/food-drink/
La Catrina Mexican Kitchen
202 E. Elm St.
New Albany, Ind.
(812) 725-8264
http://lacatrinamexicankitchen.com
https://facebook.com/lacatrinanewalbany
https://instagram.com/lacatrinamk
Robin Garr's rating:
86 points.
Noise level:
With the overhead doors up and the house almost full at lunch time, the roar ranged from loud to deafening. Plan to lean in to your tablemates if you want to hear them. (Average sound was 80dB, the level of loud singing, with peaks to an ear-shattering 92dB when a large truck rumbled past.)
Accessibility:
Only marginally accessible to wheelchair users. Most of the dining area is on a concrete slab framed by a yellow-painted curb that's at least 6 inches high. One door in a distant corner boasts a level entrance limited by a threshold bump and a "use other door" warning, and a few tables along Elm Street sit at street level. The restroom is equipped for use by wheelchair users.