The 502 Bar & Bistro, a jewel in Norton Commons
LEO's Eats with Robin Garr
The 502 Bar & Bistro's bistro steak, a medium-rare steak served with fingerling potatoes, asparagus, and brown butter beurre blanc.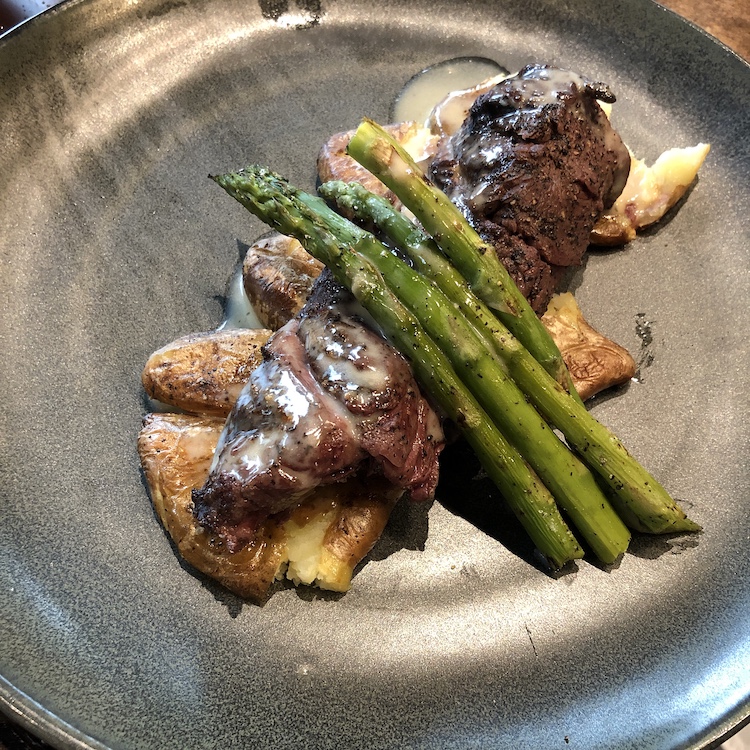 For any chef, an invitation to come cook at James Beard House in New York City is an honor devoutly to be wished. To get there before turning 30 marks a young chef as a rising culinary young gun. Now meet Louisville's Chef Ming Pu, 29-year-old executive chef at The 502 Bar & Bistro: This king of the kitchen is heading for Beard House this coming Tuesday, July 16, for his third visit in the past two years.
I've been much too slow getting out to The 502 Bar & Bistro, so with his Beard House trip looming, this seemed a good time to go.
The restaurant occupies the first floor of a two-story red-brick building. Inside, the spacious dining room rises some 20 feet high, with its huge windows stretching from near floor level to the metal rafters of the industrial ceiling.
A large, marble-topped bar fills most of one leg of the L-shaped room. In the dining areas, sturdy, shiny-finish wood tables are furnished with comfortable white-padded wooden chairs. The big windows and a squadron of TV screens leave little room for additional decor beyond a few bits of whiskey memorabilia; the whiskey theme also carries over with artisanal bourbon bottles repurposed as water carafes.
Be sure to check both sides of your menu. Depending on your appetite and your budget, you may prefer to ponder the dinner menu on one side or the selection of lighter, more affordable bar snacks and sandwiches on the other.
On the bar side, seven bar snacks range in price from $7 (for an order of fries) to $14 (for chicken wings). Ten sandwiches are $11 (for a ham and swiss slider) to $15 (for many options).
On the dinner side of the menu, a half-dozen mains are priced from $24 (for shrimp and grits with smoked Gouda grits) to $39 (for a Creekstone Farm filet.) Three pasta dishes are $14 to $18. ...
Read the full review on LouisvilleHotBytes,
http://www.louisvillehotbytes.com/502-bar-bistro
You'll also find this review in LEO Weekly's Food & Drink section today.
http://www.leoweekly.com/category/food-drink/
The 502 Bar & Bistro
10401 Meeting St.
Norton Commons
742-4772
http://the502barandbistro.com
Robin Garr's rating:
88 points.
Noise level:
Hard edges and a crowded room build up a happy noise, but the large room and high ceilings soften the noise somewhat. Conversation was possible in spite of the roar. (The average sound level was 79dB, the sound inside a moving car, with peaks to 88dB, approaching a motorcycle roar.)
Accessibility:
The building and restrooms appear to be on the level, posing no barrier to wheelchair users.