Shine on, August Moon
LEO's Eats with Robin Garr
August Moon's grilled Indocine lemongrass and five-spice beef satay.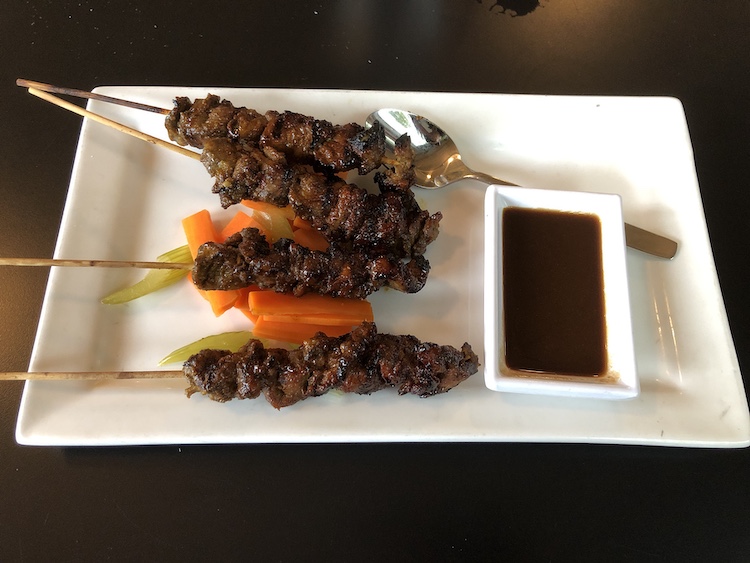 "Nobody goes there any more. It's too crowded." Yogi Berra purportedly said that, making the aphorism famous even if he didn't say it first. Now I want to take an unlikely shot at similar fame with this Yogi-style observation: "I go to August Moon so often that I haven't been there lately."
Okay, maybe not. But it's true, sort of. I like August Moon. I end up there for lunch, dinner, or a drink every now and then. It's welcoming and comfortable, stylish in its austere, modern design, and its mix of Chinese and Southeast Asian fare with a distinct flavor of Malaysia can't be found anywhere else in town.
So when my editor suggested that I ought to review August Moon, I was all, "Nah, can't do it. Too soon. I reviewed it just a year or two back."
So I checked the archives, and dang! My last published review was in 2007, as a matter of fact, and the last before that was in 2002, right after Chef Peng Looi's fine eatery moved into its spacious new quarters a couple of doors west on Lexington Road.
So, a dozen years later, I believe it's time to review August Moon again. The scene hasn't changed much over all those years, and there's no reason it should. The main dining room is spacious and lofty, with exposed metal rafters supporting a light tan ceiling that slants up to a high peak on one side of the room.
Undraped black tables stand out against off-white granite-look floor tiles, and a couple of bold abstract art pieces in bold color swatches add warmth to the pale gray walls.
The dinner menu's appetizing pan-Asian mix starts out with about 20 soups, salads, and "first flavors" small plates or bar bites. Pricing in this category is attractive ... The dozen first-flavor dishes are almost all $8 or $8.50.
Read the full review on LouisvilleHotBytes,
http://www.louisvillehotbytes.com/shine-august-moon
You'll also find this review in LEO Weekly's Food & Drink section today.
http://www.leoweekly.com/category/food-drink/
August Moon Chinese Bistro
​2269 Lexington Road
456-6569
http://augustmoonbistro.com
Facebook:
http://bit.ly/AugMoonLou
Robin Garr's rating:
80 points
Noise level:
Even with conversations going on at other tables nearby, hearing wasn't a concern during dinner.. (Average sound level was 71dB, the level of normal conversation.)
Accessibility:
The dining room and rest rooms are accessible to wheelchair users, but the front doors are heavy.