Simply Thai comforts us with flavor and spice
LEO's Eats with Robin Garr
Simply Thai's Pad Thai is a fine rendition of this iconic Thai noodle dish.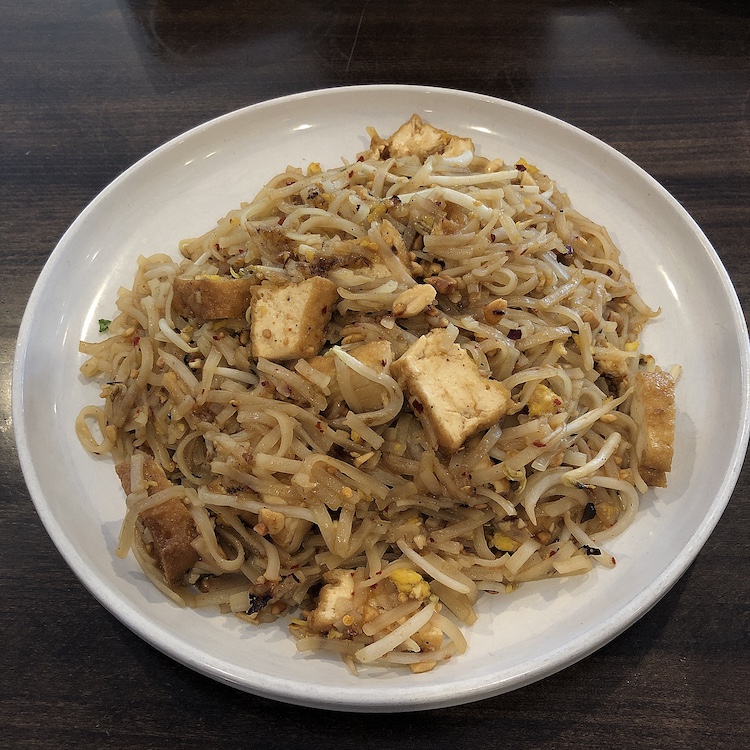 When you need comfort food, nothing else will do. When you're feeling down, pulling up to a plate full of comfort may be the best thing you can do for yourself. So it was for me last week when I had to say good-bye to my beloved cat Spike, a ginger-color furball buddy who'd been my special friend and constant companion for more than 17 years. It was either ugly-cry or fill up on comfort food, so I decided to do both.
But here's the funny thing: When I needed comfort food, I realized that comfort for me does not come from the nurturing culinary memories of a Louisville childhood. No, my culinary comfort needs are filled with the bright, potent flavors of Southern and Southeastern Asia. Make mine Indian, Vietnamese, Indonesian or Thai, and I can feel the tension and sadness quietly draining away.
I hadn't been to Simply Thai in St. Matthews for quite a while, so it felt like the perfect destination for a bittersweet yet consoling dinner in memory of Spike. ...
Read the full review on LouisvilleHotBytes,
http://www.louisvillehotbytes.com/simply-thai-comforts
You'll also find this review in LEO Weekly's Food & Drink section today.
http://www.leoweekly.com/category/food-drink/
Simply Thai
323 Wallace Ave.
899-9670
http://simplythaiky.com
https://facebook.com/SimplyThaiSaintMatthews
Another location: 12003 Shelbyville Road, 690-8344
Robin Garr's rating:
84 points
Noise level:
Conversation at dinner time was easy, even with a fairly full room. (Average sound level was 72dB, the level of normal conversation.)
Accessibility:
The restaurant appears to be fully accessible to wheelchair users.