We are Hooked on Frankfort
LEO's Eats with Robin Garr
The Hooked on Frankfort fish plate features a 10-ounce cod fillet plus excellent spicy fries, cole slaw, a couple of hush puppies, and white or rye bread.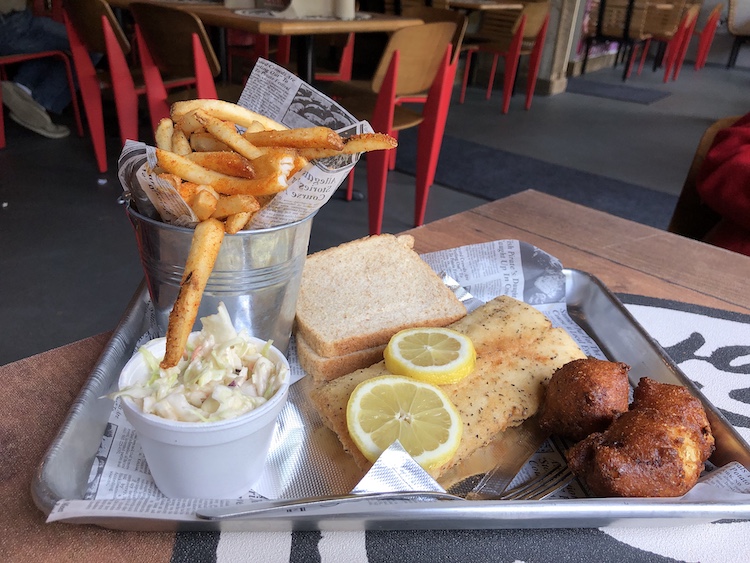 For many decades before the first pizza came to Louisville in the 1950s or the first real taquerias arrived in the 1990s, this town has had a love affair with seafood and fish.
It wasn't long after the Civil War when Mazzoni's started shipping fresh oysters up from the Gulf in railroad cars filled with ice; fried fish couldn't have taken much longer in a city with a large Catholic population expected to consume fish on Fridays. Mike Linnig and his family were selling fish sandwiches out of their produce stand on Cane Run Road as early as the late 1920s; the first Kingfish restaurant greeted the dawn of the Baby Boom in 1948.
Nowadays there's a source of fried fish just about everywhere you look, and the latest entry is a good one, too: Please say hello to Hooked on Frankfort.
Sister restaurant to Frankfort Avenue Beer Depot, Hooked is just two doors west, with Patrick's bar in-between. Hooked has a different, brighter, less divey vibe than FABD. Large front windows bring in plenty of light; a giant sailfish and a wall-size mural that looks like a giant aquarium enliven the interior.
There's fried cod and catfish, of course – any Louisville fish house has to have that – but there's a wider variety of shellfish and finny fish than a lot of Louisville's many fish eateries have to offer. And it's as affordable as any, with a fried cod sandwich priced at $9.99 with chips, pickle, and white or rye bread included. A fried cod platter, generous with sides, is $13.99.
But that's not all. ...
Read the full review on LouisvilleHotBytes,
http://www.louisvillehotbytes.com/hooked-frankfort
You'll also find this review in LEO Weekly's Food & Drink section today.
http://www.leoweekly.com/category/food-drink/
Hooked on Frankfort
3200 Frankfort Ave.
690-9835
hookedonfrankfort.com
Facebook: bit.ly/HookedFrankfort
Noise level:
We had no trouble hearing our tablemates, even with the room half full and country rock playing. (Average sound was 71dB, the level of normal conversation, with brief peaks to 82dB, the sound level of loud singing.)
Accessibility:
The entrance and restrooms appear to be accessible to unassisted wheelchair users, but the restroom doors are unusually heavy.