Holy Smokes fills us up with good barbecue
LEO's Eats with Robin Garr
A generous spread at Holy Smokes Bar-B-Que & Catering.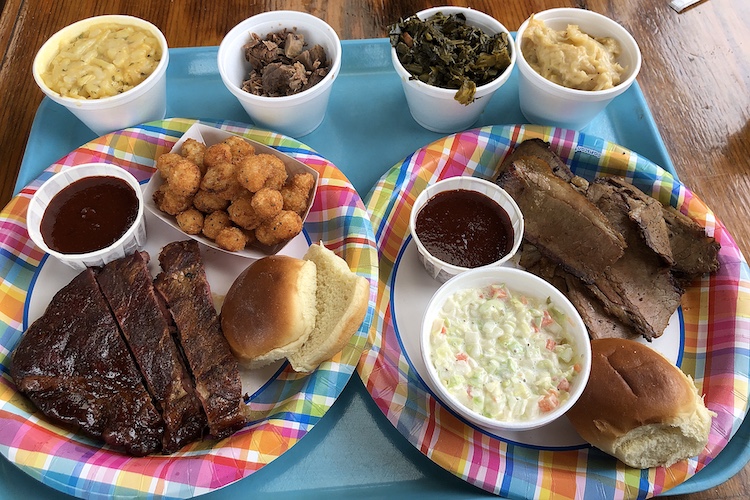 I found myself nurturing a fierce craving for barbecue the other day, and a quick trip out to Holy Smokes Bar-B-Que in Okolona set that right. This friendly neighborhood eatery gets smoked meat right.
I got a chuckle out of Holy Smokes' logo, too, a hefty yet cute cartoon porker with a big smile and a happy wave, wearing a red t-shirt (but no pants) and a baseball cap that bears a pair of angel wings and a golden halo.

The venue is simple and functional, just as you want in a barbecue shop. The building has been through many uses, from a Heitzman's bakery to a branch of Bootleg Barbecue. There may have once been a small church on the property, the woman behind the counter said.
Wooden tables and red-and-black dinette chairs are comfortable, and the bright red and dark blue decor signals the region's divided collegiate sports rivalries. "A house divided," declares a large red and blue wall display with a U of L cardinal, UK monogram, and exactly equal numbers of posters, pennants and license plates celebrating both teams.
Order at the service window on the left, pick up your tray when your name is called from the window on the right, and enjoy a fine and filling barbecue meal. The menu, posted on the wall and available as a handout, is extensive. Just about any kind of meat that can be smoked is available here – pulled pork, pulled chicken, beef brisket, mutton, spare ribs, baby back ribs, chopped rib tips, Virginia ham, turkey breast – although an "Eat more possum" sign behind the counter is a joke: American's marsupial is not on the menu, I was firmly assured. ...
Read the full review on LouisvilleHotBytes,
http://www.louisvillehotbytes.com/holy- ... d-barbecue
You'll also find this review in LEO Weekly's Food & Drink section today.
http://www.leoweekly.com/category/food-drink/
Holy Smokes Bar-B-Que & Catering
7508 Preston Highway
968-5657
http://holysmokesbbq.us
https://facebook.com/holysmokesbbqlouisville
Robin Garr's rating:
88 points
Noise level:
Even with the room about half full and Journey's Wheel in the Sky on the sound system, conversation was easy. (Average sound was 67dB, the level of normal conversation.)
Accessibility:
The entrance and restrooms are accessible to unassisted wheelchair users, but be aware that the parking slots in front are on a fairly steep grade that may take some effort to push up in a wheelchair.