Louisville Cafe India brings Indian delights
LEO's Eats with Robin Garr
Louisville Cafe India's goat dum biryani, an iconic northern Indian rice and meat dish.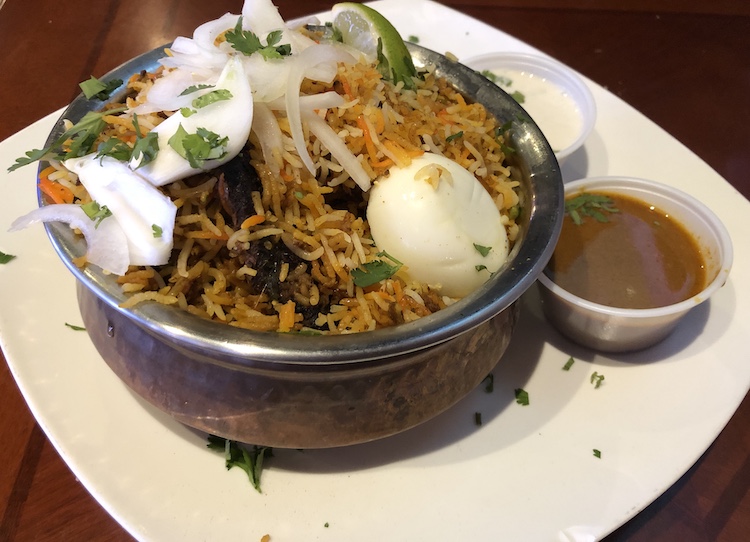 Once upon a time, not all that many years ago, the closest Indian restaurant to Louisville was in Cincinnati. I know, because I used to make that trip as often as I could. Indeed, as recently as the turn of the millennium there were still only about three Indian eateries in town.
But those days of deprivation are past! The recent arrival of Louisville Cafe India, popped up in the Middletown quarters abruptly vacated by Peking City Bistro last winter, pushes the metro's count of Indian restaurants past a dozen, all of them on the Kentucky side of the river. Get with it, Hoosiers!
I was already feeling pumped by the arrival of Shreeji Indian Vegetarian Street Food on Hurstbourne last winter, so when I learned that Louisville Cafe India also features a substantial selection of Indian street fare – and more substantial entrees from many Indian regions as well – it didn't take me long to race over there.
The decor seemed familiar if a bit dissonant, until I realized that the Indian restaurant's thrifty owners apparently moved right in to the Chinese restaurant's space without changing a thing. Chinese chariots sketched on pale gold walls, bright red-and-gold abstract patterns, and white tile floors remain. Window walls around two sides of the shopping center space afford plenty of light even through darkened glass. Sweet pungent incense wafted through the room from a burner under the counter, and two big-screen televisions were tuned to an Indian cricket game.
The colorful four-page laminated menu contains more than 100 Indian delights, about half priced under $5 and nothing over $8.99. Yes, that's right: The menu tops out at $8.99 for a half-dozen entrees, including a few lamb and mutton dishes and entree-size rice-and-meat biryani. There's a broad selection of both vegetarian and carnivore-friendly dishes.
We filled the table with large and small plates, and only belatedly realized that everything had been made quite spicy-hot, without discussion. We didn't mind, but you might, so don't hesitate to ask in advance. ...
Read the full review on LouisvilleHotBytes,
http://www.louisvillehotbytes.com/louis ... a-delights
You'll also find this review in LEO Weekly's Food & Drink section today.
http://www.leoweekly.com/category/food-drink/
Louisville Cafe India
12412 Shelbyville Road
253-6777
http://louisvillecafeindia.com
https://facebook.com/cafeindialouisville
Robin Garr's rating:
84 points
Noise level:
Conversation was easy with the restaurant less than half full. (Average sound was 70dB, the level of normal conversation, with peaks at 79dB, the sound inside a moving car.)
Accessibility:
The entrance and restrooms appear to be accessible to unassisted wheelchair users.