El Mariachi is so good that even the chips excel
LEO's Eats with Robin Garr
The chips at El Mariachi are fresh, house-made, and possibly the best you ever ate.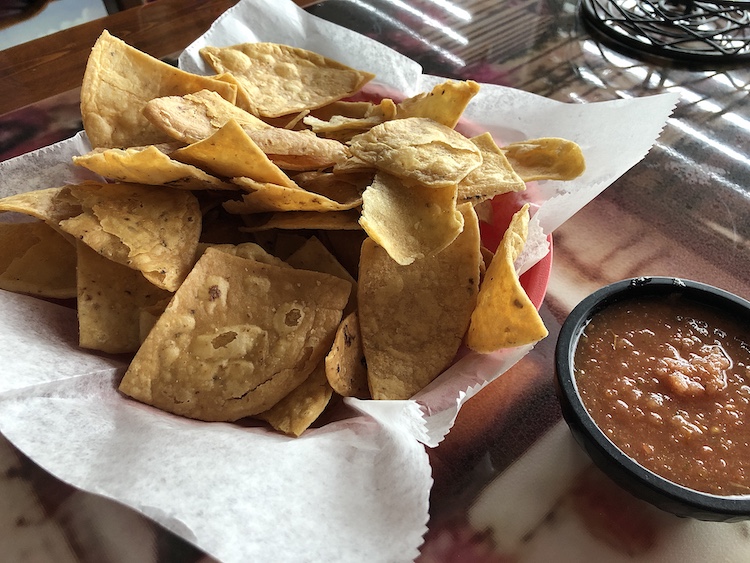 Let me tell you why I love El Mariachi so hard: Even the chips and salsa that drop on your table the moment you take a seat are exceptional. These thick, deeply corn-flavored treats, fashioned on the premises from fresh-made tortillas, are positively addictive. They're so crunchy that I had to look twice to persuade myself that they weren't lightly breaded before they were fried.
Yes, the salsa is first-rate, too, a finely mashed reddish-brown puree of red chiles, tomatoes, and herbs, just spicy enough. But those chips? Perhaps the best I ever ate, I really could make a meal of them, if that didn't involve missing out on the rest of the menu. But I can't do that. It's too good to skip.
If you make the trip to visit El Mariachi – and you really should – save some time to visit the other Mexican shops along the side of this little adobe-color strip center. A carniceria (butcher shop), supermercado (grocery), panaderia (bakery) and tortilleria (tortilla factory) flank the restaurant and offer a wealth of Latino delights. The stores are part of the local Guanajuado chain, named after the historic city and rich agricultural region northwest of Mexico City.
The decor shows significant effort. It's bright and exuberant with bold primary colors. Heavy chairs and shiny table tops are individually painted with striking images such as toucans, ox carts, village scenes, Aztec women.
The eight-page menu contains a large variety, covering a broad range of Mexican regional cuisines, even crunchy tacos, burritos, and other Tex-Mex treats for those who prefer more familiar fare. ...
Read the full review on LouisvilleHotBytes,
http://www.louisvillehotbytes.com/el-mariachi-excel
You'll also find this review in LEO Weekly's Food & Drink section today.
http://www.leoweekly.com/category/food-drink/
El Mariachi Restaurante Mexicano
9901 Lagrange Road
413-5770
elmariachilouisville.com
Facebook: bit.ly/ElMariachi502
Robin Garr's rating:
89 points
Noise level:
Conversation was easy with the restaurant less than half full. (Average sound was 65dB, the sound of a quiet street, with occasional spikes to 78dB, the sound inside a moving car.)
Accessibility:
The restaurant appears accessible to wheelchair users, but the men's room, although spacious enough to accommodate wheelchairs, lacks accessibility modifications.