Come to Sal's for the pizza, stay for the fish
LEO's Eats with Robin Garr
Huge portions, quality cod and fine preparation make Sal's fish platter one of the best fried-fish picks in town.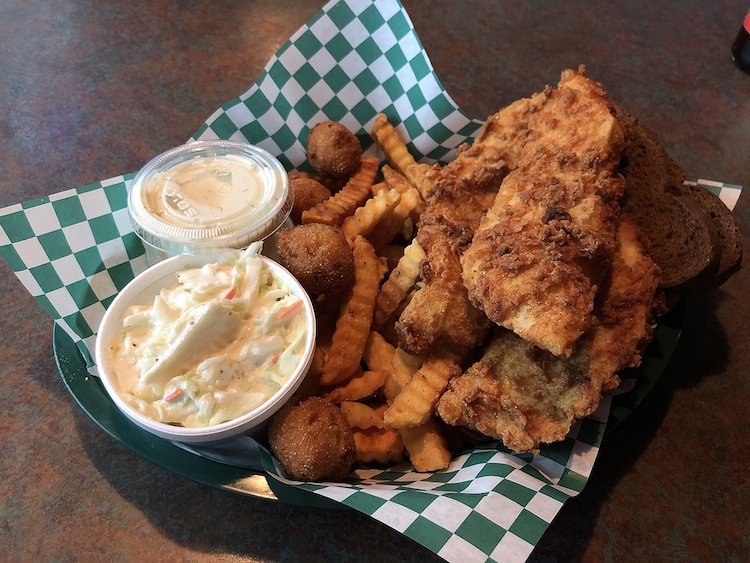 I must have passed by Sal's Pizza & Sports Pub in Lyndon a hundred times without ever being motivated to stop in. This was a mistake. In retrospect I really miss all the good meals that I might have enjoyed there.
Don't be like me. Go, soon. You'll like it.
Here's why: If the iconic '80s sitcom Cheers had been set in a sports bar, the chances are it would look a lot like Sal's. Comfortable and sparkling clean, it's a place where everyone is welcome even if nobody knows your name … yet. Wall-to-wall screens offer a variety of sports channels, and you can sit back in sturdy chairs or comfortable leather-look booths to enjoy them.
But we came for the food, and that was a pleasant surprise. It's bar fare, sure, with plenty of salty, crunchy, cheesy snacks for noshing during a game. Sal's middle name is Pizza, of course, and the thin-crusted, cheesy pies, if not the artisanal style that makes pizza snobs swoon, are well-made.
But wait! There's more! Sal's middle name is not Fish, but perhaps it should be. Hidden near the bottom of the last column on Sal's glossy menu is a delicious surprise: beautiful fried Icelandic cod that's as good as any in this fried-fish-loving town. ...
Read the full review on LouisvilleHotBytes,
http://www.louisvillehotbytes.com/sals-pizza-fish
You'll also find this review in LEO Weekly's Food & Drink section today.
http://www.leoweekly.com/category/food-drink/
Sal's Pizza & Sports Pub
812 Lyndon Lane
365-4700
Facebook:
http://bit.ly/Sals-Pub
Robin Garr's rating:
86 points
Noise level:
We wandered in for lunch just after Sal's opened on a Saturday afternoon, and the place was quiet as long as we had the room to ourselves. When there's a big game on, the environment would likely be completely different. (Average sound was 72dB, the level of normal conversation.)
Accessibility:
The entrance is level, but the men's room, although marked with wheelchair symbols, lacks grab bars and other accessibility modifications.