Joe's Older Than Dirt is back, and we're glad
LEO's Eats with Robin Garr
Joe's Older Than Dirt's brisket platter with slaw, mac-and-cheese, and house-made chips.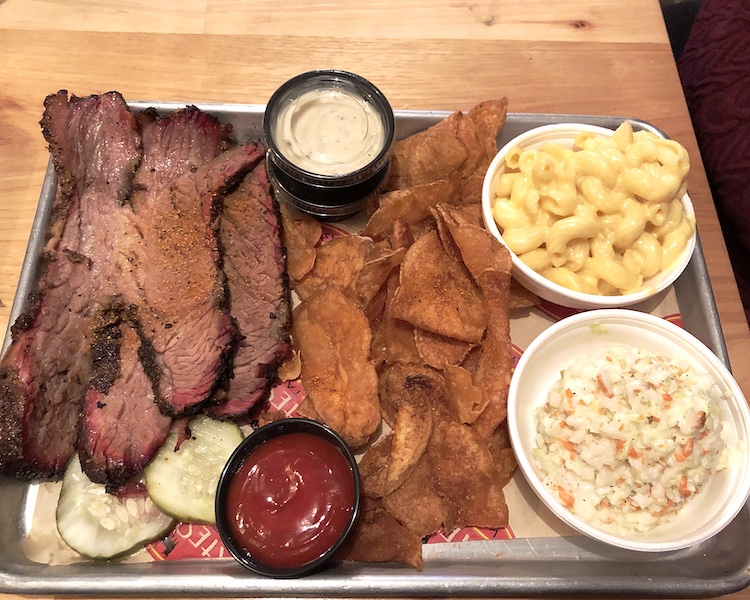 The first sign that Joe's Older Than Dirt had returned from its two-year absence was the reappearance of its fabled moose statue out front, overlooking the busy traffic on New La Grange Road.
Yes. Joe's is back, moose statue and all, and, in some respects, it's better than ever after its brief closure for renovation and 19-month tenure as the Ole Group's Red Barn Kitchen. Ole, which runs the popular Artesano, Mussel & Burger Bar and a growing chain of El Taco Luchadors, put a lot of effort into upgrading the pleasantly grungy old Joe's property.
Current operator Cres Bride, who had been Joe's general manager for several years and has returned in partnership with Ole, oversaw a bit more updating, restoring a second bar in the front end of the sprawling building. It reopened last Feb. 21, one year ago tomorrow. Happy anniversary, Joe's!
The new Joe's is a lot like the old Joe's, only a little brighter, a little fresher, but still equipped with plenty of big-screen televisions for sports watching, abundant craft beer taps (and yes, mass-market beer taps, too), not to mention well-crafted cocktails and a good bourbon selection. There's also a trivia night, karaoke night, and mimosas and bloody marys on sale on Sundays. Yes, indeed, my friends, Joe's is well and truly back.
We dropped in on for an early evening dinner on a week night and found a good crowd on hand already, enjoying good food – mostly fried, not that there's anything wrong with that – good drink and good service, so there was really nothing not to like.
The menu has returned to the down-home style of the original Joe's, moving away from the more chef-driven menu that prevailed at Red Barn Kitchen. Gone are the Berkshire pork and Amish chicken, replaced by nameless generics; nor does the new menu spell out such minutiae as peppercorn rubs, cherrywood smoke, or bourbon glaze.
Red Barn's pricey $22 brisket and ribs plates are gone – in fact, ribs have disappeared from the menu entirely – but a selection of five meat platters now range in price from a low-end $9.99 (for pork, brisket or fish tacos) to $12.99 (for a brisket platter). ...
Read the full review on LouisvilleHotBytes,
http://www.louisvillehotbytes.com/joes-older-than-dirt
You'll also find this review in LEO Weekly's Food & Drink section today.
http://www.leoweekly.com/category/food-drink/
Joe's Older Than Dirt
8131 New La Grange Road
434-7470
http://joesolderthandirt.com
Facebook:
http://bit.ly/JoesOlder
Robin Garr's rating:
85 points
Noise level:
Joe's is a friendly neighborhood gathering place, so you can count on the sound of happy people talking, laughing, sometimes shouting. (Average sound level 75dB, the sound inside a moving car, ranging from extremes of 67dB, the sound of normal conversation, to 81dB, sound akin to loud singing.)
Accessibility:
Accessible to wheelchair users overall, but raised threshold bumps could require an extra push, and about half of the tables are tall bar tables.