Amici satisfies with fine pasta and more
LEO's Eats with Robin Garr
Eggplant Parmesan gets a lighter treatment at Amici.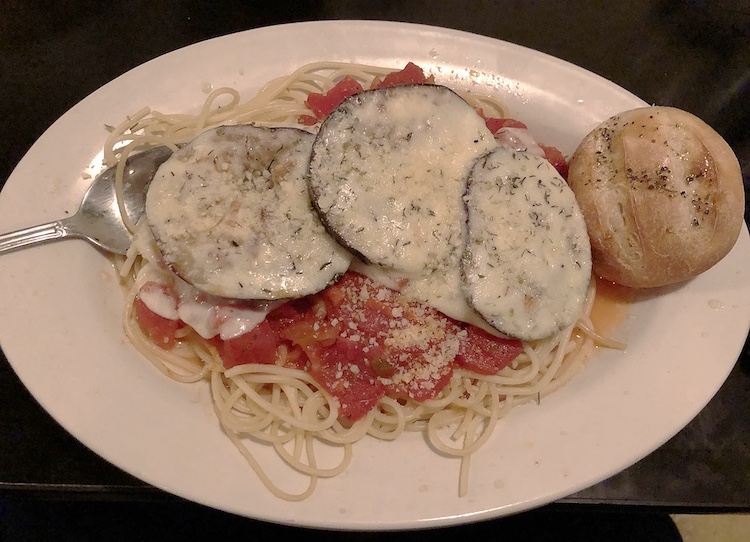 I love pasta in all its forms. Heck, I love it that there are so many forms. From skinny angel hair to broad pappardelle; long, short, or in-between, gimme. Pasta is my comfort food, and I'm delighted to report having achieved maximum pasta comfort at Amici Café in Old Louisville the other day.
Amici has been around since 2006, but went through a down period amid ownership changes and had fallen off my radar for years. But new owner Don Reinhardt, a longtime Pittsburgh restaurateur with roots in Southwestern Jefferson County, returned to town over a year ago to take over Amici. Its luster is restored. It's time to put it back on the to-go list.
Housed in an attractive 19th century building with its entrance through a courtyard on the side, Amici's dining room still features a charming mural of an Italian village with stone buildings and shade trees. Old Italian family photos add to the nostalgic decor, with undraped black tables and sturdy wood-and-metal chairs to serve diners. A comfortable bar occupies a separate room at the front, and the patio offers comfortable al fresco dining in season.
The menu tilts toward family Italian, with many pasta dishes and tomato sauces of the Italian South. It also comes with a healthy dose of Reinhardt's wit. Eggplant, it informs us, is "not an egg, but it's a plant." The white pizza, it adds, "is as white as a Donald Trump rally," a snark so divine that it almost prompted me to order one. ...
Read the full review on LouisvilleHotBytes,
http://www.louisvillehotbytes.com/amici ... fine-pasta
You'll also find this review in LEO Weekly's Food & Drink section today.
http://www.leoweekly.com/category/food-drink/
Amici Café
316 W. Ormsby Ave.
637-3167
amicilousville.com
Robin Garr's rating:
90 points
Noise level:
Conversation was easy on a weeknight with fewer than half the tables filled, although occasional bursts of shouts and laughter from a neighboring table kicked it up briefly. (Average sound level 72dB, similar to normal conversation, with spikes to 85dB, the level of loud singing.)
Accessibility:
No steps bar the entrance, but the pathway from the sidewalk through the front door is a bit bumpy and rough. The men's room is spacious but lacks toilet grab bars.