Intriguing, creative Ostra brings the flavor
LEO's Eats with Robin Garr
The cricket brownies at Ostra don't taste like crickets. They taste like brownies.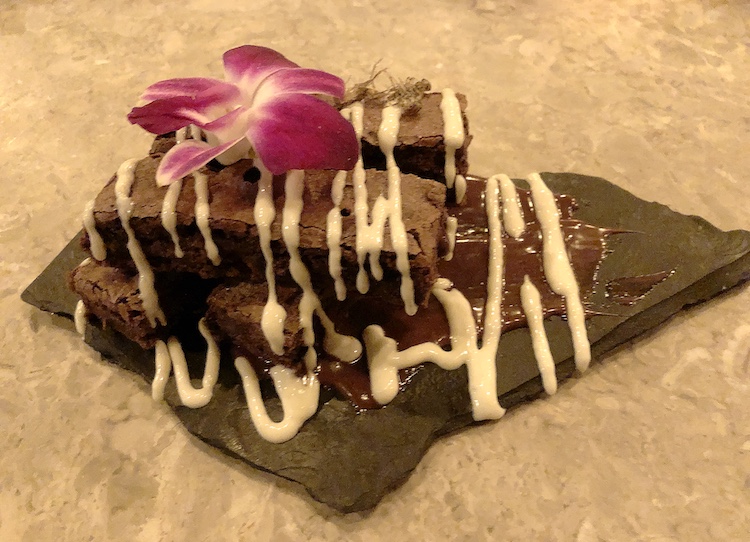 Let me tell you three important things about Ostra, the stylish restaurant that opened last summer in Clifton:
It is very loud, so loud that a sudden shout can – and often does – spike its noise level into the potentially hazardous zone above 90 dB.
It is very dark, so dark that it's not always easy to make out what's on your plate.
It is very, very good, so good that I really don't mind that it's loud and dark. I'd go back in a heartbeat.
It also serves, among other things, a chocolate brownie made of crickets.
Yes, you heard that right: Ostra is Louisville's first restaurant serving insects, and that's no mere whim. Executive Chef Adam Burress, whose outstanding restaurant portfolio includes Hammerheads, Migo and Game, is intentional about highlighting foods that are sustainable and locally sourced from small farms.
Insects are prized as delicacies in many countries in the global South. America hasn't caught up with the rest of the world yet, but that may change in this century. Burress is kindly offering us a head start.
Don't worry, though, the brownie is the only item on the extensive menu that contains insect life. There's plenty of seafood, including several oyster dishes plus uncooked poke, seviche and more. Other meats are chosen for their sustainability and availability from local farms, including wild boar, duck, chicken, and rabbit. If you want a steak or a chop, you'll have to look elsewhere; but it's your loss if you do. ...
Read the full review on LouisvilleHotBytes,
http://www.louisvillehotbytes.com/intri ... ostra-wins
You'll also find this review in LEO Weekly's Food & Drink section today.
http://www.leoweekly.com/category/food-drink/
Ostra
1758 Frankfort Ave.
915-0160
http://ostralouisville.com
https://facebook.com/ostralou
https://instagram.com/ostra_lou
Robin Garr's rating:
92 points
Noise level:
Make no mistake, with its hard edges and jovial crowd, Ostra is loud, particularly when every table and bar seat is occupied. (Average sound level 85dB, with occasional bursts to an ear-shattering 94dB.)
Accessibility:
The older building has been thoughtfully renovated to afford access to wheelchair users at the entrance and in the restrooms.