Shreeji brings street-style Indian fire and flavor
LEO's Eats with Robin Garr
Shreeji Indian's masala dosa, more than a foot long and packed with spicy goodies.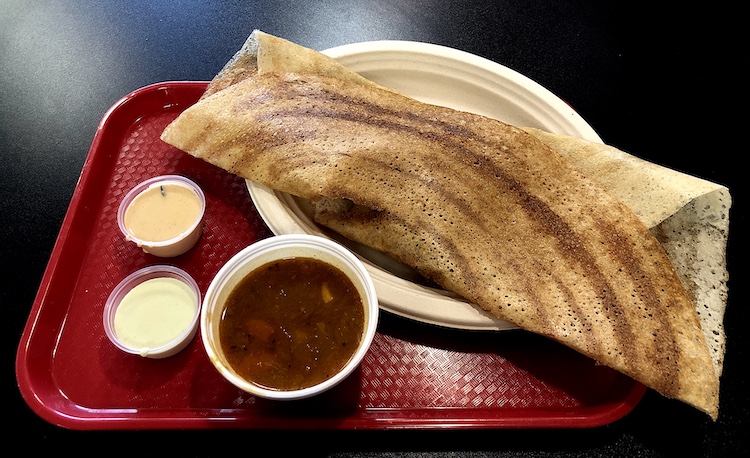 Even if you think you know something about Indian food, the chances are that the first time you see the menu at Shreeji Indian Vegetarian Street Food, you're going to be bewildered by a lot of names of dishes that you don't recognize at all.
Only seasoned travelers or natives of the subcontinent are likely to be familiar with such deliciousness as vada pav, dabeli, methi gota, or bhel.
But here's great news: It doesn't matter. Not only will tge friendly people behind the counter explain it all for you, but even if you simply dive in and choose at random, you really can't go wrong. It's all delicious, bold, aromatic and colorful, so good that you won't regret any choice you make.
Although a few of the city's many Indian restaurants have offered us a taste of Indian street food, Shreeji is the first to focus entirely on this fascinating genre. Also known as chaat, from the Hindi word for "lick," these intriguing and varied snack-size goodies may be crunchy, tangy, hot, or sweet, and sometimes all at the same time. \
And now we've got it, and it's so good that I'm scanning the real-estate ads in search of new quarters within walking distance. Okay, not really, but it's tempting.
Shreeji opened in mid-November in a shopping strip on busy Hurstbourne Parkway. Modern and bright, its golden-brown walls bear small pictures with Indian themes. Stylish white, blue and red pendant lights dangle over black tables set with attractive white, pale-green, and orange plastic-and-metal chairs. Order at a counter along one side, take a number, and wait for your goodies to arrive on disposable service ware. Although everything is cooked to order, it won't take long.
The menu offers a near-bewildering array of street food options, including a dozen appetizers, more than 20 chaat specialties, 14 traditional South Indian dishes, a half-dozen Indo-Chinese items (ultra-fiery Chinese dishes with an Indian twist); a half-dozen sandwiches (with Indian ingredients served between thick slices of white bread); a few rice dishes, a handful of Indian-style sweets, and an array of non-alcoholic Indian-style beverages. (No alcohol is served.)
Prices? You're going to love this: These Indian small plates range from $2.99 (for a pair of deep-fried, crunchy potato vadas or veggie samosas) to an absolute top price of $8.49 (for chole batura, a Punjabi dish of spicy chickpeas and fried bread).
Did I mention that it's all vegetarian? You won't find a morsel of meat in the house; but I promise you this: You won't care. It's that good.
We've been twice, and barely made a dent in the menu. With so many discoveries to be tried, I'm planning to go again soon. I recommend that you do the same. ...
Read the full review on LouisvilleHotBytes,
http://www.louisvillehotbytes.com/shree ... ire-flavor
You'll also find this review in LEO Weekly's Food & Drink section today.
http://www.leoweekly.com/category/food-drink/
Shreeji Indian Vegetarian Street Food
1987 S. Hurstbourne Pkwy.
890-4000
Facebook:
http://bit.ly/shreeji
Robin Garr's rating:
90 points
Noise level:
Even with Bollywood-style music videos playing at low volume on the big-screen TVs, conversation was easy during a fairly busy weekend lunch hour. (Average sound level 71dB.)
Accessibility:
The modern shopping-center building appears to be fully accessible to wheelchair users.