Free-range chicken adds value at The Eagle
LEO's Eats with Robin Garr
The Eagle's crisp, fiery fried chicken is billed as free-roaming and cage-free.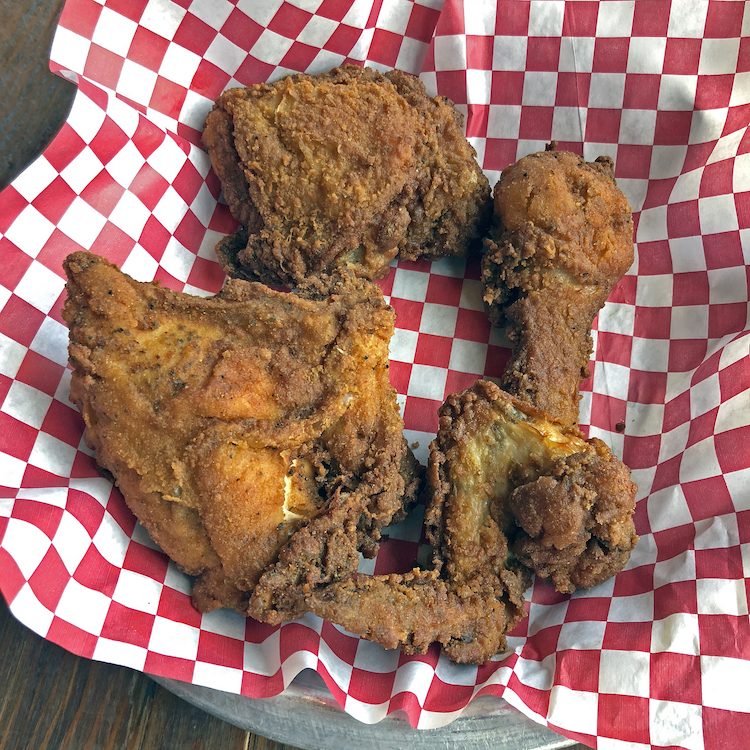 The Eagle landed in Louisville two years ago this month, fourth shop in a Cincinnati-based mini-chain. I have to confess that I didn't pay much attention at first. But then I found out that The Eagle isn't just another Highlands bar. Its fried chicken is also a big thing. It's not your industrially fried chicken, either. It is, according to the firm's website, "cage free, free roaming, all natural chicken."
This is a big deal to me. I'd much rather enjoy cage-free birds if I can.
So, coincident with LEO Weekly's fried-chicken special this week, we settled in for a late lunch. I feel quite a bit better about The Eagle now. I can recommend not only the chicken but some particularly interesting salads, a grilled cheese sandwich, and at least one crunchy, spicy starter as well.
The restaurant, which previously housed El Camino and before that, Avalon, is spacious, sprawling over several floors with a large rectangular bar dominating the main-floor space. Heavy use is made of dark, rustic wood, which with faded dark red painted walls gives the faint impression of dining in a clean, orderly barn.
The beer, liquor and cocktails list takes up a page-and-a-half of the menu, the food only a little more than a half-page, which at first appeared to confirm my hypothesis that its primary function is as a bar, not an eatery. A closer look prompted a double-take, though.
Except for the signature fried chicken ($7 for a dark or light quarter, $11 for a half or $19 for the whole bird), the menu is limited to snacks, salads, sandwiches, and sides. But those are anything but boring. Four appetizer snacks include pickled country vegetables ($6), brown-sugar and cayenne-crusted bacon ($7) and more. A trio of salads, available small or large, range in price from $4 to $11. A half-dozen sandwiches are $7 (for grilled cheese) to $12 (for a blackened shrimp po'boy or a BLT with a fried chicken breast thrown in).
The drinks list is extensive, including a dozen draft beers – all American craft beers, many of them regional, save for the mandatory Guinness – a half-dozen cocktails, about 50 bottled beers; 30 whiskeys, mostly Bourbon, of course; and a short wine list. ...
Read the full review on LouisvilleHotBytes,
http://www.louisvillehotbytes.com/free- ... cken-eagle
You'll also find this review in LEO Weekly's Food & Drink section today.
http://www.leoweekly.com/category/food-drink/
The Eagle
1314 Bardstown Road
498-8420
http://eaglerestaurant.com
https://facebook.com/TheEagleLou
Robin Garr's rating:
84 points
Noise level:
We found conversation easy during a late lunch, when most of the main-floor tables were occupied, but only one person, engrossed in his laptop, sat at the bar. You can count on more noise in the evening. (Average sound level 75dB, with a single loud peak to 88 dB)
Accessibility:
The entrance is barrier-free, but parts of the restaurant are up stairs, and most of the main-floor seating is on high chairs at the bar or high-top tables or raised booths. I could see only one table for eight that would easily accommodate a wheelchair user.