We eat healthy fare and the hell with it at CoreLife Eatery
LEO's Eats with Robin Garr
Spicy ginger steak with rice noodle at CoreLife.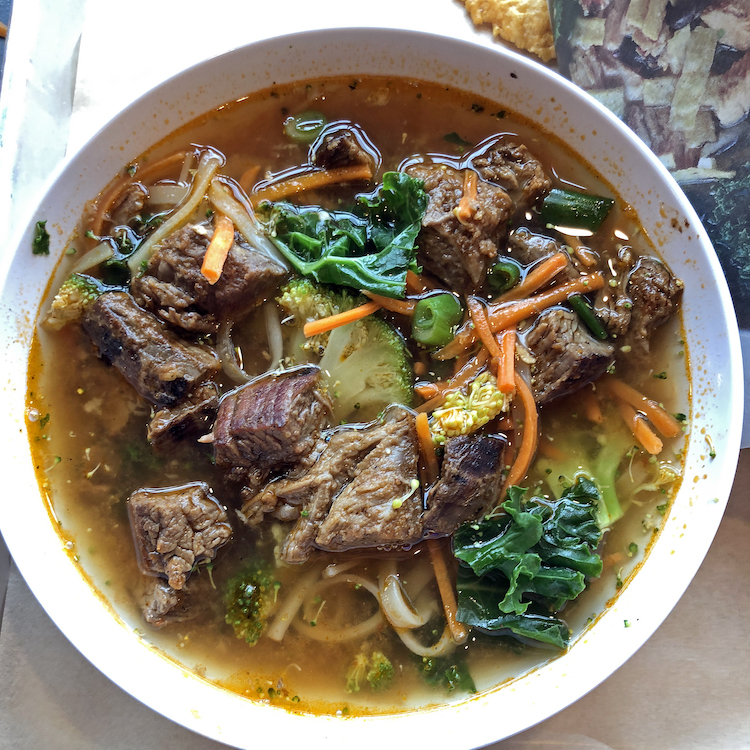 "I say it's spinach, and I say the hell with it." This iconic New Yorker cartoon established a simple truth that was as valid when it was published in 1928 as it remains in 2018: For most of us, food that is good for us doesn't appeal to our taste buds.
"Hold my beer," responds CoreLife Eatery, a two-year-old, small but growing national restaurant chain that just landed in the metro amid the sprawl of Clarksville's Veterans Parkway two months ago.
The chain, with a former top Panera executive guiding development, declares that "Healthy Never Tasted So Good." Its bill of fare features bowls of greens, grain, broth, and rice: Filling meals, not just mere salads, that can be tuned to vegetarian, vegan or gluten-free preferences, plus antibiotic-free chicken, grass-fed beef, ahi tuna poke, and roasted tofu as protein options. You'll find no sugary fountain sodas here (nor any alcoholic beverages), but healthy fruit beverages are made from scratch. Beet lemonade? Don't knock it if you haven't tried it!
Mary and I dropped in the other day with our pals Avery and Nate, and we all really enjoyed our greens and grains. If the absence of desserts from the healthy menu prompted me to stop at Ehrler's for ice cream on the way home, why, that's my fault and not CoreLife's. ...
Read the full review on LouisvilleHotBytes,
http://www.louisvillehotbytes.com/healt ... t-corelife
You'll also find this review in LEO Weekly's Food & Drink section today.
http://www.leoweekly.com/category/food-drink/
CoreLife Eatery
1225 Veterans Pkwy, Suite 100
Clarksville, Ind.
670-5680
http://corelifeeatery.com/locations/clarksville-in-2
Facebook:
http://bit.ly/CoreLifeIN
Robin Garr's rating:
83 points
Noise level:
It's a large space with glass walls and hard edges to bounce sound around, but it wasn't too noisy to hear; our talkative group of four probably increased the level on our own. (Average sound level 65dB, with peaks to 83 dB)
Accessibility:
The modern shopping center space is barrier-free, although you do have to negotiate a cafeteria-style line to order and choose independently.