Mai's Thai still delivers the flavor
LEO's Eats with Robin Garr
The textures of rice noodles and bean sprouts play off each other in Mai's Thai's first-rate Pad Thai.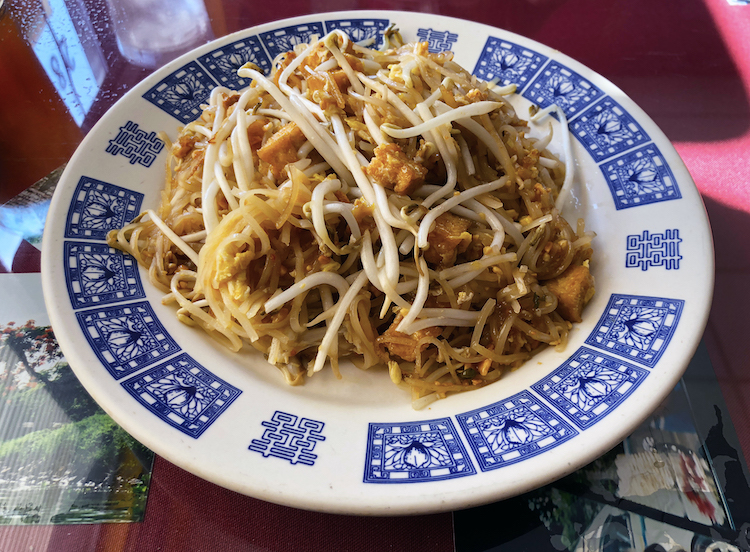 Some of you young'uns may not believe this, but there was a time, not all that long ago, when there was not a single Thai restaurant in the Louisville area. We might have read about the stuff, or even, if we were lucky, tasted it in trips to more sophisticated cities or to the Far East.
Then, adding insult to injury,
Lexington
got a Thai restaurant before we did! That was so unfair. But once Thai-Siam (now defunct) broke the ice in 1989, we finally have an abundant choice of Thai goodies, about nine currently in the greater metro, and I like them all!
But I still hold a special place in my heart for the remaining early arrivals: Thai Cafe, which came to Holiday Manor in 1994 and remains one of my favorites; and Mai's Thai, which got its start in the back of an Old Louisville neighborhood grocer in 2000 before moving to its current quarters in Jeffersonville the year after.
I hadn't been to Mai's for ages, so we made a nostalgic visit the other day. It's just as good as ever, and not much has changed. It still looks very much the same, with brightly painted walls covered with Thai art and travel photos. Tables are draped in red cloth under glass, with dozens of postcards showing Thai scenes held in place by protective glass.
The bill of fare remains affordable, with some 45 dishes. Entrees range in price from $7.99 (for a large bowl of Tom Yum Kai or Tom Jued Woon Sen soups) to $15.99 (for Haw Mok, grilled tilapia steamed with coconut milk and curry paste). Most of the main dishes, including all fried-rice and stir-fry selections, are $10.99 or less.
Thai food particularly appeals to me because, when it's well-made, as Mai's dishes almost invariably are, it tantalizes your taste buds with a clean, refreshing mix of flavors in careful balance. You may sense sour, sweet, salty, bitter, and spicy-hot flavors, sequentially or in combination, in a cuisine that, thanks to Thailand's location near the junction of East Asia and South Asia, may remind you of Chinese food one minute, Indian food another. You may encounter rice, or noodles, or both. Or, in the case of the classic Pad Thai, rice noodles and bean sprouts meeting in a contrasting dance of textures. Thai tip: Don't expect chopsticks, except perhaps with rice dishes. ...
Read the full review on LouisvilleHotBytes,
http://www.louisvillehotbytes.com/mais- ... ers-flavor
You'll also find this review in LEO Weekly's Food & Drink section today.
http://www.leoweekly.com/category/food-drink/
Mai's Thai Restaurant
1411 E. 10th St,
Jeffersonville, Ind.
(812) 282-0198
http://maisthai.com
Facebook:
http://bit.ly/MaisThai
Robin Garr's rating:
87 points
Noise level:
A less-than-capacity Saturday afternoon crowd and gentle recorded Thai music posed no barrier to easy conversation. (Average sound level 66-75 dB)
Accessibility:
There's no physical barrier to wheelchair users, but the unisex restroom door is heavy, and the paper towel dispenser is too high to reach from a wheelchair.