A biscuit makes a meal at lovable Boujie Biscuit
LEO's Eats with Robin Garr
The cheesy 'mato biscuit at Boujie Biscuit boasts a thick, house-made four-cheese sauce.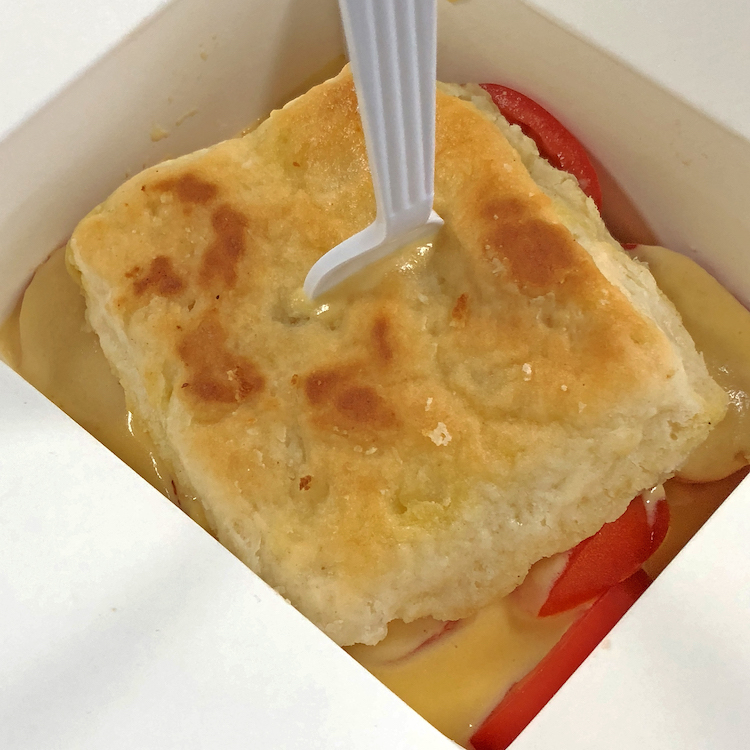 Today let us consider the noble biscuit. An all-American delicacy with its roots in the South, this flaky, layered treat may be made with milk, buttermilk, or even cream. Some are made with lard, some with butter, but it's always elevated with some form of fat worked gently into flour and leavened with baking powder. 
Biscuits may be flaky or crumbly, feathery or light, but softness always defines a good biscuit. Tough, gummy texture does not. A biscuit is almost always delicious.
Want a delicious biscuit? Welcome to Boujie Biscuit, where the massive, butter-streaked, square buttermilk biscuits meet all the criteria of excellent traditional Southern biscuits.
Chief cook, bottle-washer and host Cyndi Joyner greets visitors with a friendly smile, presiding over the open kitchen in the brightly renovated Clifton storefront that briefly housed Cocoberry Pops, and before that, Reynolds Grocery.
Joyner chose the name Boujie, she says, from the variously spelled current slang word for "bourgeois." In contrast with its usual negative spin, though, she means it to express class and rising hope, reflecting her intention to serve exceptional biscuits turned into complete meals sandwiched with her fresh-made comfort fare.
Orginally a New Yorker, Joyner started her original restaurant in Franklin, Indiana, she said, hoping to help people explore different cultures through food by way of a buttermilk biscuit. She hoped to raise money to help her mother, who was ill, but after her mother died, Joyner moved to Louisville, hoping to thrive in a larger market. She's on the right track. She's already added members to her team to help address the rush.
Just shy of 4 inches square and rising nearly 2 inches high, Joyner's mega-biscuits can thank plenty of fresh butter for their rich crumb interior. They are soft; light, not dense, their crumb engineered to hold up well to being split and having hearty sauces and gravies over them without turning soggy or giving up their integrity. Their quality makes it clear that Joyner is a top biscuit chef, a master of her skill. 
Boujie Biscuit is nominally open from 8 a.m. to 3 p.m., covering breakfast and lunch, but it pays to keep an eye on their Facebook page, as instant popularity since its opening in late August has forced early closings now and then, and they've been good about announcing it online. ...
Read the full review on LouisvilleHotBytes,
http://www.louisvillehotbytes.com/boujie-biscuit
You'll also find this review in LEO Weekly's Food & Drink section today.
http://www.leoweekly.com/category/food-drink/
Boujie Biscuit
1813 Frankfort Ave.
269-8426
facebook.com/boujiebiscuit
Robin Garr's rating:
89 points
Noise level:
The tables are adequately spaced and the room is small, so excessive noise is not a problem. (Average sound level 60-75 dB)
Accessibility:
A wooden ramp on the side of the building provides wheelchair access, although the door is heavy; two steep steps bar access to the front door.