Good beer and food boost Pints & Union's cozy pub vibe
LEO's Eats with Robin Garr
Onion smashed burger with Velveeta – yes, Velveeta – at Pints & Union.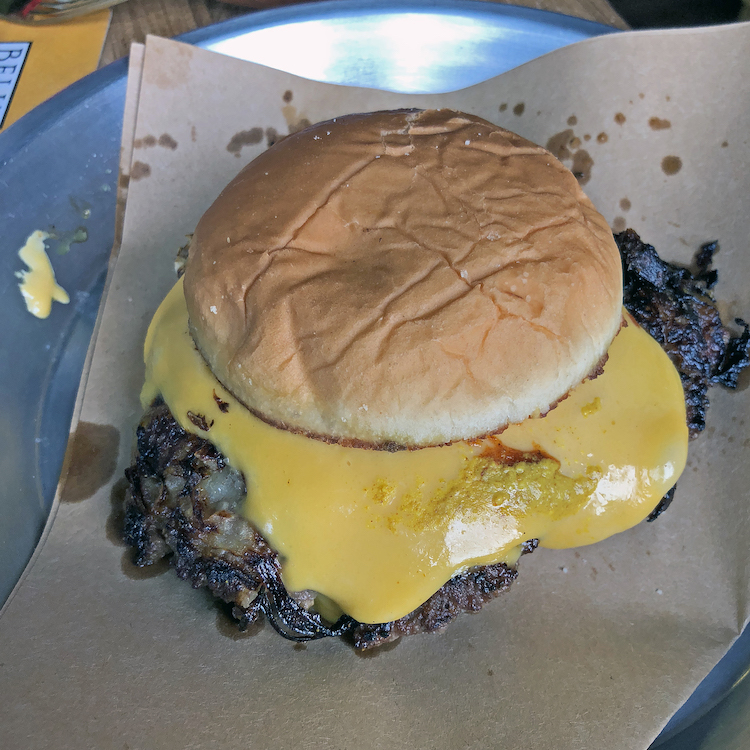 Every now and then a new local place to eat and drink makes me exceptionally happy. Sure, I'm always glad to see any new eatery come to town. But now and then a fresh arrival delivers such pleasure in its food, drink, and mood that it makes me jump up and down in delight.
Consider, if you will, Pints & Union in downtown New Albany, the utterly lovable restaurant … er, no, beer bar? … um, no, not that, nor a brewpub either. It's a public house, a European-style pub, then, built into the beautifully renovated shell of an 1880s-era general store that later served as a neighborhood saloon.
In an age when most restaurants seem rigged for noise, Pints & Union is … well, not quiet, but tuned for sociability, with soft folk music in the background that's loud enough to hear but not enough to dampen conversation. What's more, there's nary a television in the place. Stop, take your eyes from the screen and turn them to the people at your table. Don't feel chatty? Grab a book from the extensive collection, or settle down with a friend for checkers, chess, or a board game.
Pints & Union takes its beer seriously, without taking it snobbily. Yes, there are some 40 carefully chosen European and American beers in bottles or cans on the list, plus eight well-chosen draft beers; and yes, you can attend informative weekly classes up in the cozy loft with beer guru Roger Baylor, who favors the motto "Education is important, but beer is importanter").
But it's not the kind of place that crams beer down your throat with wordy tasting notes. They'll trouble you with no data beyond the essentials of name, style, alcohol by volume and price, although the staff stands ready to go beer-geek with you if that's your style. ...
Read the full review on LouisvilleHotBytes,
http://www.louisvillehotbytes.com/good- ... ints-union
You'll also find this review in LEO Weekly's Food & Drink section today.
http://www.leoweekly.com/category/food-drink/
Pints & Union
114 E Market St.
New Albany, Ind.
(812) 913-4647
http://pintsandunion.net
https://facebook.com/Pintsandunion
https://instagram.com/pintsandunion
Robin Garr's rating:
90 points
Noise level:
Intentionally a place for reflection and conversation, Pints & Union is quiet, not silent; soft folk music doesn't deter chatting with friends. (Average sound level 64-74 dB)
Accessibility:
Wheelchair users may wish to take a seat at one of the tables up front; the high bar seats and tight square booths would be difficult, and a long flight of stairs bars access to the loft.