The Café enjoys enduring popularity
LEO's Eats with Robin Garr
Strata alla Cucina, The Cafe's take on strata, an old-school casserole based on a savory bread pudding.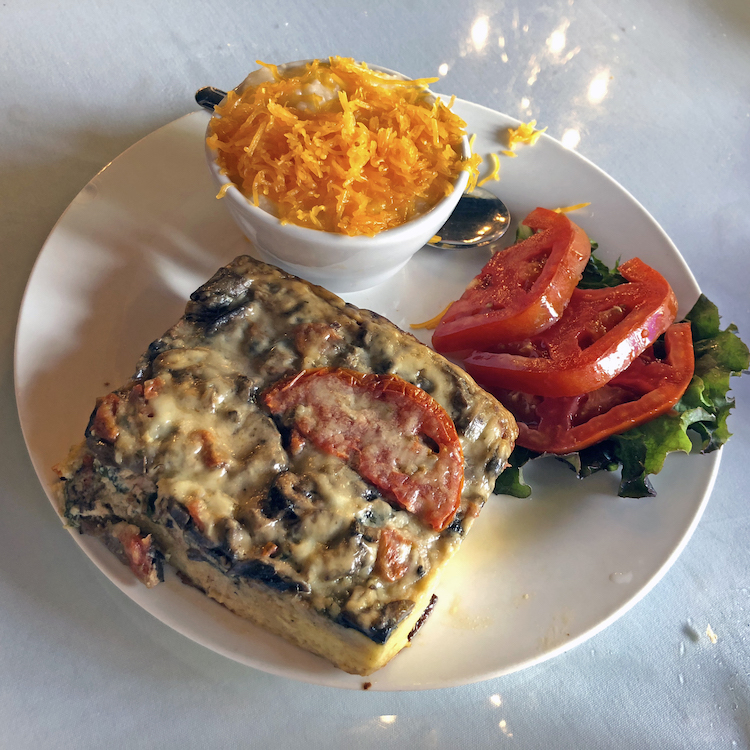 I love The Café on Brent. I go there for lunch or breakfast – or both – about as often as I can go to any eatery that I'm not reviewing. It's almost always crowded, and there's a reason for that: It's good.
It's doubly to The Café's credit, too, that people come even though it's not that easy to find your way through a sharp S-curve under the railroad viaduct off Broadway. What's more, it can be hard to find parking when the lunch crowd has already claimed all the slots in the small parking lot and nearby streets.
But you'll want to go anyway. Just about everybody does.
What's the secret of The Café's success? I think my friend Laura nailed it: "I think The Café is a homey kind of place," she said. "Hospitable, warm, competent, welcoming service. The food is tasty and well prepared."
Yes to all that, and I'll add another: Tradition. It's been going for more than a decade in this location, and it preceded that by another long stretch as the popular restaurant inside the old Louisville Antique Mall on Goss Avenue (now converted into fancy condos as the Germantown Mill Lofts).
I loved that old mall, and to tell you the truth, one of the best things about a trip there was not just discovering an old china cabinet or ginger-jar lamp, but also sitting down to lunch in The Café.
Then as now, its extensive menu featured breakfast and lunch dishes that defy categorization. other than just "really good things that Louisville families love to eat." ...
Read the full review on LouisvilleHotBytes,
http://www.louisvillehotbytes.com/cafes ... popularity
You'll also find this review in LEO Weekly's Food & Drink section today.
http://www.leoweekly.com/category/food-drink/
The Café on Brent
712 Brent St.
637-6869
http://thecafetogo.com
https://facebook.com/thecafelouisville
Robin Garr's rating:
85 points
Noise level:
When the large space with its close-spaced tables is full at lunchtime, the noise level can be deafening, making conversation difficult. After 1 p.m., though, the crowd and sound fall back to a more comfortable place. (Average sound level 77-86 dB during crowded periods, 74-80 dB later.)
Accessibility:
Level entrance and floors pose no physical barrier to wheelchair users, but closely spaced tables could make wheelchair navigation difficult, and large entrance doors on the parking lot side are heavy, requiring some arm strength to open.