Brasserie Provence takes us to France, très bon!
LEO's Eats with Robin Garr
Brasserie Provence's sauteed tofu – yes, tofu – with fingerling potatoes and haricots verts.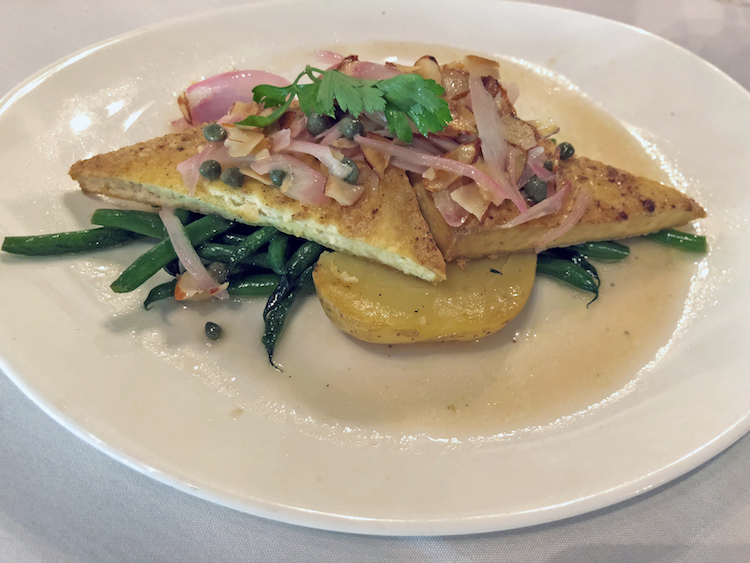 Say what you will about the French, they are a carnivorous people. French cuisine is full of beef, lamb, pork, chicken, fish,
toutes les viandes
! All the meats!
But I'm pretty sure Julia Child's recipe box never contained a recipe for tofu. When I walk into a French restaurant, I expect a bill of fare centered on meat, poultry, and fish, because that's how the French roll. Or cook.
So I was more than a little surprised when I sat down at Brasserie Provence the other day and noticed that something new had been added since my last visit about four years ago. The large, brasserie-style menu now devotes a designated space to vegan entrees, including a main-dish offering based on sauteed tofu.
Of course I had to try it, inspired by the same muse that compelled me to try the chicken feet at Jade Palace a while back. You know what? It was good. Really good. Of course, the lamb was good, too, as was the pork and the steak
frites
. Our dinner group came with high expectations and left in delighted fulfillment.
Coming up on its fifth birthday next month, Brasserie Provence has become a popular spot on the city's dining scene. Owner Guy Genoud has transformed what was once a Tony Roma's into a spacious dining room with off-white walls, paintings of pretty French rural scenes, white-draped tables set with quality plates and flatware.
Brasserie Provence's beverage program amply fits the definition of a brasserie, with abundant liquor and wine selections along with an adequate list of about 20 beers, including some French and Belgian options.
The menu is brasserie style, an oversize single sheet that includes everything on one page. ...
Read the full review on LouisvilleHotBytes,
http://www.louisvillehotbytes.com/brass ... e-tres-bon
You'll also find this review in LEO Weekly's Food & Drink section today.
http://www.leoweekly.com/category/food-drink/
Brasserie Provence
150 N. Hurstbourne Parkway
883-3153
http://BrasserieProvence.com
https://Facebook.com/brasserieprovence
Robin Garr's rating:
88 points
Noise level:
White-draped tables and a large, sprawling dining room with high ceilings soften the edges of a happy buzz, holding noise levels within reason for table conversation. (Average sound level 66-78 dB.)
Accessibility:
No steps or obvious barriers bar full access to wheelchair users.