Fine dining with a view at Portage House
LEO's Eats with Robin Garr
Portage House's seared duck breast entrée.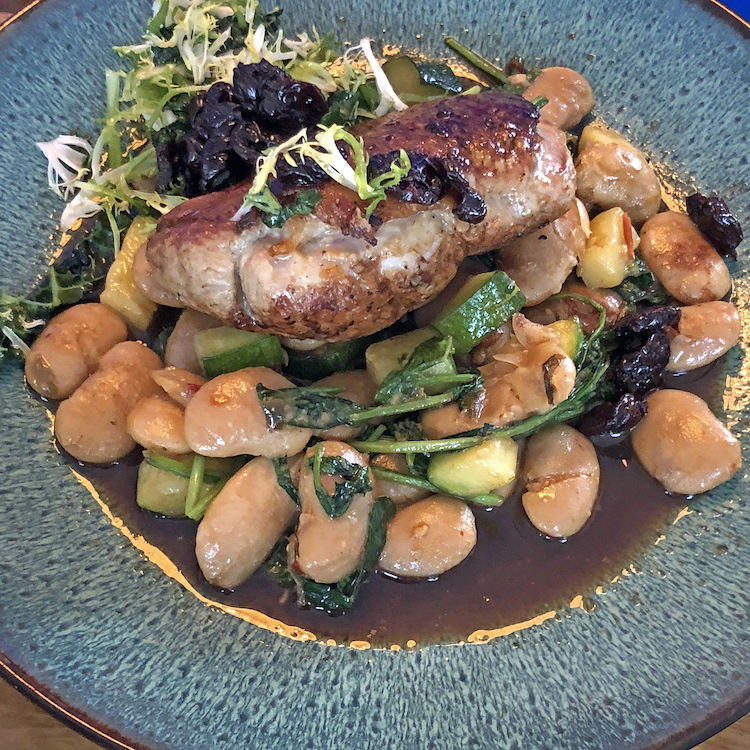 When Portage House Chef Paul Skulas jumped across the river to open Couvillion in Germantown, Chef Dallas McGarity of Fat Lamb added Portage House to his portfolio so quickly that the ovens didn't even have time to cool down.
I've already been over to Couvillion and gave it a unqualified rave (HotBytes and
LEO Weekly
, May 30, 2018). Now I finally got back to Portage House to see how it's going with McGarity overseeing the operation. Friends Don and Anne joined Mary and me for an excellent dinner on a pretty summer evening that lured most of the clientele out to its attractive front patio that affords great views of the Ohio River and the nearby Big Four Bridge.
We thought long and hard about joining the crowd outside, but decided to head for the air-conditioned interior to check out any decor changes under the new regime. As it turned out, it appears that the new team stepped right in and started cooking; there wasn't much need to change the simple, comfortable old-house look of the 150-year-old house with its off-white walls, dark-green woodwork, hardwood floors and undraped wood tables.
We grabbed a window table with a great riverside view in a small room just off the bar, and settled in with a cocktail and a beer while we studied the menu. I was happy with a Cubre libre ($9). A Mexican spin on the Cuba Libre, it improves the old-school rum-and-Coke cocktail by swapping in Flor de Caña anejo tequila, a Mexican Coke reduction, and whiffs of lime and orange bitters, served ice cold in a short glass. Don rated his Louisville-brewed Mile Wide Gothic Castle IPA ($11) "okay but not phenomenal," but added, unhappily, that he's never before paid $11 for a pint of draft beer. (Regional craft pints, in fact, were $9 to $11; the Pennsylvania-brewed Yuengling lager is $7.) Wine, liquor and cocktail menus are more competitively priced.
The Portage House menu is billed as modern American cuisine. You can see the Fat Lamb connection in some similar dishes, but Fat Lamb's Mediterranean accent turns all-American Heartland here on the Southern Indiana shore. ...
Read the full review on LouisvilleHotBytes,
http://www.louisvillehotbytes.com/fine- ... tage-house
You'll also find this review in LEO Weekly's Food & Drink section today.
http://www.leoweekly.com/category/food-drink/
Portage House
117 E. Riverside Drive 
Jeffersonville, Ind.
(812) 913-4250
http://eatportagehouse.com
https://facebook.com/eatportagehouse
https://instagram.com/eatportagehouse
Robin Garr's rating:
86 points
Noise level:
We were alone in a small dining room, so all the noise came from our own table, making conversation easy despite undraped tables and hard surfaces. Add more parties at adjoining tables, and the level would rise. (Average sound level 65-73 dB.)
Accessibility:
Stairs bar wheelchair access to the front door of this 1870-built dwelling, but there's an accessible entrance from the rear.