New Albany Dragon King's Daughter achieves enlightenment
LEO's Eats with Robin Garr
Dragon King's Daughter's lunch bento box with a delicious Son of Jade roll.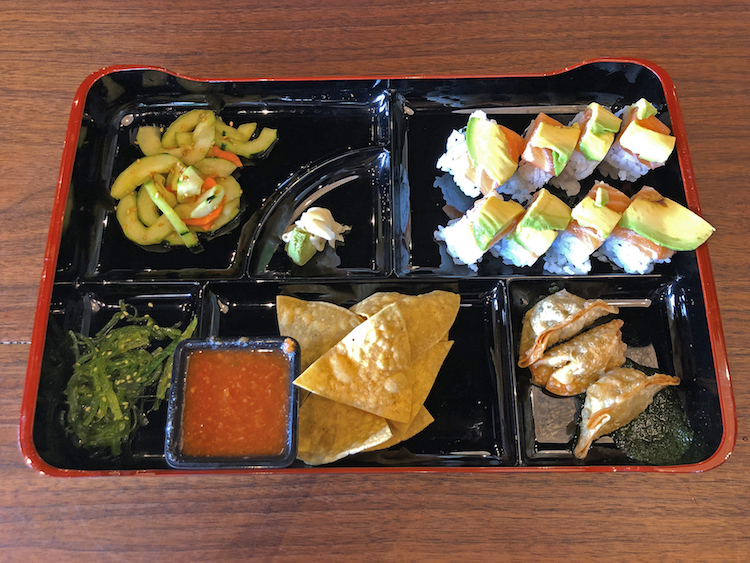 The dragon king's daughter, ancient Buddhist tradition tells us, was an eight-year-old female dragon who became the first woman ever to reach enlightenment. Female, young, in the form of an animal? It seemed impossible for such a creature to attain Buddhahood – and yet she did it.
There could be no more appropriate spirit animal for Toki Masabuchi, proprietor of the popular Dragon King's Daughter restaurants on Bardstown Road and in Southern Indiana. We crossed the river recently to check out its new, larger location on New Albany's Market Street.
The new place is impressive. An inviting bar with comfy overstuffed furniture is equipped with a Japanese robatayaki grill where bar snacks are grilled over charcoal. A short corridor lighted by bright Japanese red-paper lamps leads to the main dining room, a large space with a high ceiling, spare and cool in pale beige and white with minimal decor and large floor-to-ceiling glass walls offering views of downtown New Albany. Large hanging lights that look like spun-sugar spheroids hang over undraped wood-look tables set with small, black plastic chopsticks and spoons rolled in slick black cloth napkins.
Dragon King Daughter's menu offers a wide choice of makizushi (sushi rolls), with more than 50 choices, many of them marked as vegetarian, that range in price from $7 to $14. Quite a few have lovably wacky names such as the Green Acres ($8), a mass of veggies rolled in rice, and the screaming baby ($11), scallops fired up with both jalapeños and hot sauce.
Other maki rolls display creative international fusions, such as the Italian picnic ($10), packed with asparagus tempura and covered with prosciutto, basil and pine nuts, and the coco caliente with spicy tofu, roasted garlic, red pepper and a fiery drizzle. ...
Read the full review on LouisvilleHotBytes,
http://www.louisvillehotbytes.com/drago ... ightenment
You'll also find this review in LEO Weekly's Food & Drink section today.
http://www.leoweekly.com/category/food-drink/
Dragon King's Daughter – New Albany
129 W. Market St.
New Albany, Ind.
(812) 725-8600
http://dragonkingsdaughter.com
https://facebook.com/DKDNewAlbany
Robin Garr's rating:
89 points
Noise level:
The large open room is spare, hard and angular, and it looks as if it would be noisy. However, even with a good lunch-hour crowd, it was easy to chat with my partner. (Average sound level 62-71 dB.)
Accessibility:
The entrance and floors are flat and level, easily accessible to wheelchair users, and the restrooms are properly equipped for disabled patrons.