80/20@Kaelin's makes the old tradition new again
LEO's Eats with Robin Garr
Heir to the Kaelin's original cheeseburger, the 80/20 burger is fashioned from a five-cut beef blend.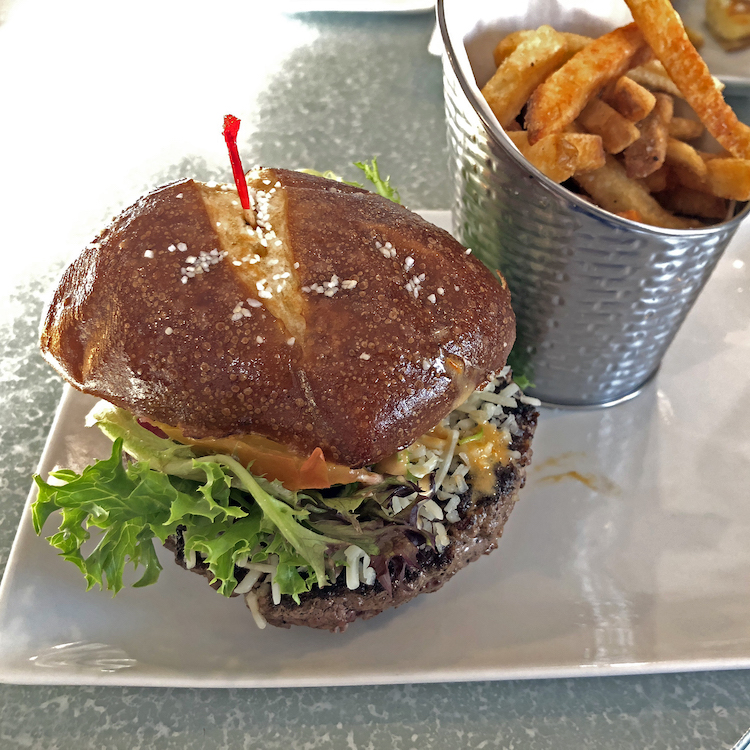 Kaelin's is back, and it's got cheeseburgers!
Well, let's parse that a little: Meet the new 80/20@Kaelin's. It's not like the old Kaelin's, but it's certainly rooted in the mystique of the beloved old eatery at Speed Avenue and Newburg Road.
The original Kaelin's was a Louisville favorite for most of the past century, family-owned from 1934 until its family owners sold the business in 2004. Owner Carl Kaelin was allegedly inspired to invent the cheeseburger on a brisk October day in 1935. (This may sound like an urban legend, but if Kaelin wasn't likely the first human to put cheese on a burger, his bragging rights to having coined the name and placed it on a menu seem well established.)
The restaurant sputtered along for a while as Kaelin's, and later as Mulligan's, but it closed after a few years and remained vacant until partners Chris Fenton, Bill DuBourg, and Matt Staggs bought the building and undertook a major rehab. The dramatically renovated 80/20@Kaelin's opened last month and appears to be drawing capacity crowds nightly. The name Kaelin's pays homage to the old place; 80/20 represents the lean-to-fat ratio in a good hamburger.
The new Kaelin's certainly has burgers. You'll find eight on the appetizing menu, ranging in price from $12 (for a black bean burger) to $16 (for a fancy beefburger made with a New York strip steak, tri-tip and sirloin blend).
The menu also features a load of apps, soups and salads (from $6 for heirloom tomato and watermelon gazpacho to $16 for the slider trio of the week). There's also a slate of bistro-type entrees that range from $17 (for a dark-meat fried chicken plate) to $22 (for a prawn and crab cake).
The makeover has retained a neighborhood bar feel, but expansive new floor-to-ceiling windows at the rear open the main dining room up to a light and airy space; the now connected house next door adds a warren of rooms, each with its own style. ...
Read the full review on LouisvilleHotBytes,
http://www.louisvillehotbytes.com/kaelins-tradition-new
You'll also find this review in LEO Weekly's Food & Drink section today.
http://www.leoweekly.com/category/food-drink/
80/20@Kaelin's
1801 Newburg Road
200-8020
http://8020atkaelins.com
https://facebook.com/8020atKaelins
https://instagram.com/8020kaelins
Robin Garr's rating:
86 points
Noise level:
The large venue has several rooms with varying sound levels. We dined in the Ice Cream Parlor, a relatively quiet environment; the bar would likely be much louder (Average sound level 64-72 dB.)
Accessibility:
The main floor and rest rooms are easily accessible to wheelchair users. An elevator gives access to the upper floors.