Anoosh Bistro's memorable fare delights
LEO's Eats with Robin Garr
Anoosh Bistro's grilled Roman artichokes were so good that we ordered seconds.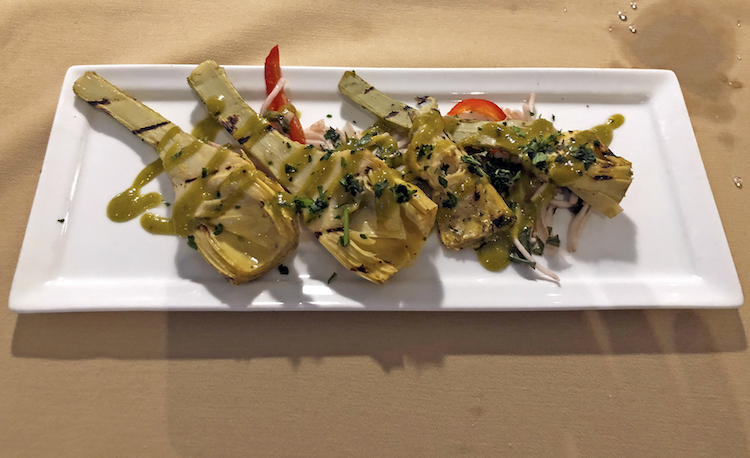 You'd think I've been doing this culinary critiquing long enough that I've been just about everywhere and tried just about everything. But the other night Anoosh Bistro delivered a first: An appetizer so fine that I couldn't eat just one.
Yes, that's what I said: The grilled Roman artichoke app was so good, so intense, yet subtle, so ringing with perfectly tuned flavors, that we ate up one order as fast as we could, then asked for another order in a take-out box so we could enjoy the experience again another day.
And that was just the start. Please record two thumbs up on my first visit back to Chef Anoosh Shariat's eponymous eatery since my last visit just after it opened in the autumn of 2014.
The simple, elegant style of the place hasn't changed much, with its understated gray and white decor brightened by splashes of bold color in framed prints of close-up flowers along one wall. A tall, comfortable banquette bisects the room, breaking it into smaller, somewhat more quiet halves; booths line one wall and a classy bar the other, with an open kitchen at the rear. Tables are draped in coffee-with-cream color tablecloths and none-too-absorbent dark-coffee color cloth napkins rolled around heavy flatware.
One thing is different now: Mark Ford, formerly of Artesano and, earlier, St. Charles Exchange, has stepped in as executive chef, backing up Shariat during his recovery from colon cancer. "I'm doing well," Shariat told us the other night, wearing a big straw hat as he greeted diners. "I'm strong." We surely hope so. ...
Read the full review on LouisvilleHotBytes,
http://www.louisvillehotbytes.com/anoos ... e-delights
You'll also find this review in LEO Weekly's Food & Drink section today.
http://www.leoweekly.com/category/food-drink/
Anoosh Bistro
4864 Brownsboro Center
690-6585
http://anooshbistro.com
https://facebook.com/Anooshbistro
https://instagram.com/anooshbistro
Robin Garr's rating:
90 points
Noise level:
A crowded room generates a happy noise, but the tall banquette that divides the room seems to muffle some of the sound, so conversation was easy for our group. (Average sound level 77-86 dB.)
Accessibility:
The dining room, bar, and rest rooms are level and accessible to wheelchair users.