Expand your Ethiopian food horizons at Abyssinia and Addis
LEO's Eats with Robin Garr
The Ethiopian lunch sampler on injera at Addis.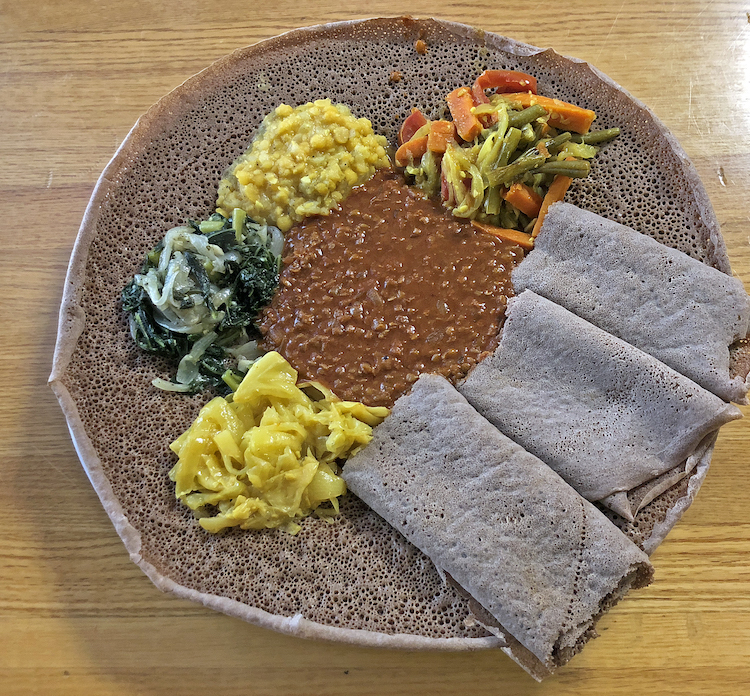 To gain real insight into other people, walk a mile in their moccasins. This simple old wisdom still feels fresh, maybe more than ever these days. Here's another saying, not so famous, because I just made it up: To get to know friends from around the world, sit down to a meal of their food. While you're there, talk to the owners and workers if you can, and thank them for making our town a more diverse and interesting place.
This is easy for me. I've always been excited by the opportunity to try food from all over the world, and to get to know the people who make it. I recommend it to you, too. Here's a good way to start: drop by either – or both – of the downtown Ethiopian restaurants where I've enjoyed lunch recently: Addis Grill on the north side of the business district, and Abyssinia Authentic Ethiopian toward downtown's southern end. ...
Read the full review on LouisvilleHotBytes,
http://www.louisvillehotbytes.com/ethio ... inia-addis
You'll also find this review in LEO Weekly's Food & Drink section today.
http://www.leoweekly.com/category/food-drink/
Abyssinia Authentic Ethiopian Cuisine Restaurant & Bar
554 S. 5th St.
384-8347
http://abyssinialouisville.com
Robin Garr's rating:
85 points
Noise level:
We had Abyssinia to ourselves on a quiet Saturday. Expect more noise when there's a crowd. (Average sound level 60-65 dB.)
Accessibility:
There don't appear to be physical barriers to wheelchair users.
Addis Grill
109 S. 4th St.
581-1011
http://addisgrill.com
Robin Garr's rating:
86 points
Noise level:
Addis Grill is busy and noisy for weekday lunch, and undraped tables echo sound, but conversation was possible. (Average sound level 67-78 dB.)
Accessibility:
The entrance is accessible to wheelchair users, but closely spaced tables may limit wheelchair users to the side of the room closer to the front door.