We'd cross the road, and more, to dine at Ward 426
LEO's Eats with Robin Garr
Ward 426's seared scallops on Fontina polenta cakes.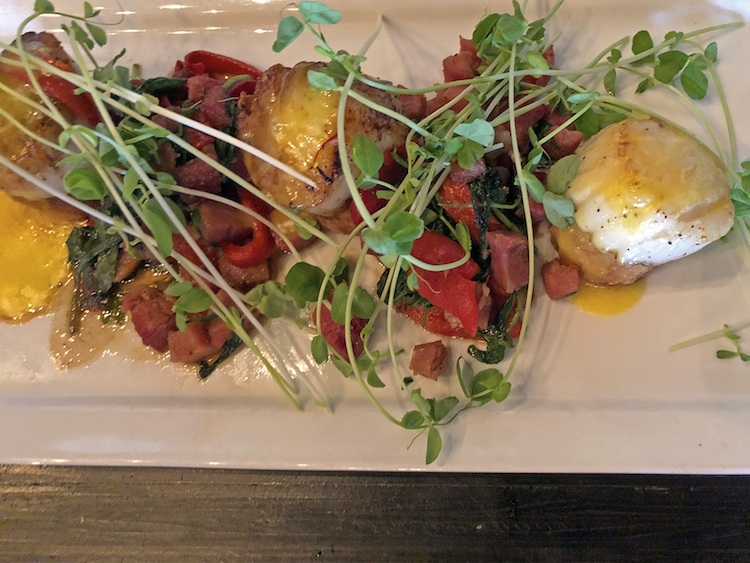 Why did the diner cross the road? To get to Ward 426, of course! Actually, we'd gladly take a quick detour around the block, park down the street and then cross the road to dine at this fine Baxter Avenue eatery.
Actually, the issue of minor traffic and pedestrian gyrations on Baxter Avenue is what I'm getting at here: As Highlands commuters know all too well, Baxter will be closed until August 7 by a massive ring of concrete barricades at its intersection with Lexington Road – Ward 426's front door. It looks scary, but we had no problem zipping around the block to get to Baxter, and there was plenty of parking available.
Ward 426 is the joint effort of Chefs Shawn Ward, executive chef at Jack Fry's for almost 20 years, who introduced Louisville to shrimp and grits; Dean Corbett, longtime owner of Equus-Jack's and Corbett's, and Nirmesh Agrawal, past executive manager at Corbett's.
Ward 426 fills the sprawling space that was once The Brewery, with substantial remodeling and decor by Bittner's. There's a dark, classy bar, two al fresco patios, two dining rooms and a small front-window lounge with comfortable sofas and overstuffed chairs. Our group dined in a high-ceilinged room a couple of steps up from the bar, with a black-and-white hexagonal-tile floor, a large gray-and-white abstract painting on off-white walls, and undraped heavy wood tables. Wall sconces and oversize brass chandeliers shed gentle light.
Libations are ample and well chosen, with extensive wine, beer and liquor lists, creative cocktails, and eight local craft beers on tap. The Last Ward cocktail ($13) was a strong, tart blend of Michter's rye, Chartreuse and Maraschino.
The dinner menu starts with 13 appetizers, soups and salads. They range in price from $8 (for a Bibb salad with warm brie) or, on the app side, $9 (for calamari with a three-olive tapenade), to $18 (for a charcuterie plate country ham and Capriole Farm cheeses).
Ten entrees range from $12 (for a crispy cod sandwich) to $44 (for a fancy surf-and-turf with beef filet and lump crab in Low Country hollandaise. Hold the sticker shock, though, as only one other entree (a $35 Maple Leaf Farms duck dinner) is over $30. Three vegetarian entrees (all $18) and three meatless apps ($7-$8) are segregated in their own menu section. ...
Read the full review on LouisvilleHotBytes,
http://www.louisvillehotbytes.com/cross-road-ward-426
You'll also find this review in LEO Weekly's Food & Drink section today.
https://www.leoweekly.com/2018/07/ward-426/
Ward 426
426 Baxter Ave.
365-2505
http://ward426.com
https://facebook.com/ward426
Robin Garr's rating:
84 points
Noise level:
Undraped tables and hard surfaces can amplify crowd noise, but conversation is possible unless diners at a neighboring table get rowdy. (Average sound level 68-75 dB, with peaks to near 90 dB.)
Accessibility:
Steps prevent access between dining rooms and the bar, but the restrooms are equipped for access; and there's wheelchair access to the dining rooms via level entrances from patios on the Baxter Avenue side and at the rear of the building.