Eat the flan first? It's all good at Cancun
LEO's Eats with Robin Garr
Cancun's flan is so good that it tempts us to have dessert first.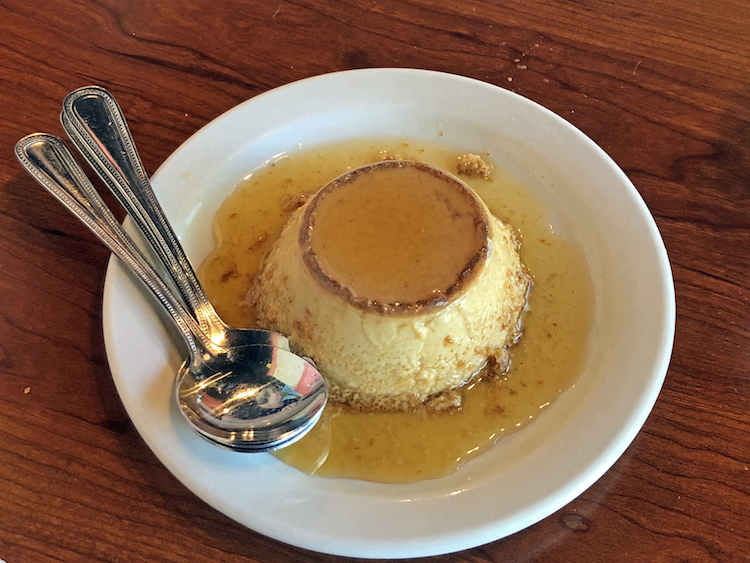 I've never had all that much of a sweet tooth. When it comes to the flan at Cancun Mexican Restaurant, though, that's a whole 'nother story: I might even eat dessert first. Yes, it's that good.
Cancun, an early 2017 arrival, has developed a good following, for its food and service and, no doubt, for the tequila drinks and happy-hour offerings in its long, inviting bar. Bright habanero-orange walls, high-backed booths and wood-look tables fill the long, narrow dining room, with bright sombreros a colorful wall mural depicting palm trees on a sunny Cancun beach. A large screen is tuned to Spanish-language television.
The eight-page menu offers the usual Mexican-restaurant options in abundance. Affordable pricing puts Cancun squarely into the category of good cheap eats, with a huge collection of 35 dinner specials under $10, and two dozen lunch specials from $6.99 to $9.99. Only a few fancy seafood dinners break into double digits, and they top out at $15.99 (for the Del Mar trio of lobster, tilapia and shrimp).
Mary, my sister Amy, and I enjoyed a satisfying lunch the other day, starting with good quality chips and zippy salsas and ending with that memorable flan. ...
Read the full review on LouisvilleHotBytes,
http://www.louisvillehotbytes.com/eat-flan-first-cancun
You'll also find this review in LEO Weekly's Food & Drink section today.
http://www.leoweekly.com/category/food-drink/
Cancun Mexican Restaurant
808 Lyndon Lane
883-1924
http://cancunrestaurantlouisville.com
https://facebook.com/CancunMexicanRestaurant502
Robin Garr's rating:
85 points
Noise level:
It's a busy, popular place, and a friendly lunch-hour crowd kept up a constant buzz that, however, generally did not hamper conversation. (Average sound level 77-85 dB.)
Accessibility:
A short wooden ramp makes the entrance accessible to all. The restroom is equipped with grab bars, but narrow doors could be tricky to negotiate in a wheelchair.