Ikebana fills long-vacant Red Pepper space
LEO's Eats with Robin Garr
Eel roll sushi at Ikebana.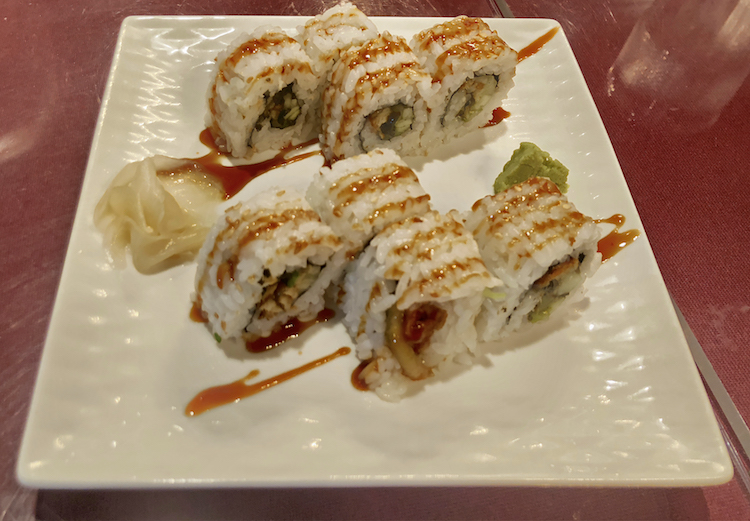 I still mourn the 2010 departure of Red Pepper, Louisville's best Chinese restaurant ever. As good as it was, Red Pepper owner Yuan Hua told me when it closed, the combination of a $5,000 monthly lease payment and a respected Sichuan chef who required fair payment for his skills, sent it on to restaurant Nirvana after a short, bright two-year tenure.
Now, eight years later, the exotic-looking building on Lower Brownsboro is lighted up again: Ikebana Japanese Restaurant & Sushi has come to fill the space.

We dropped in for dinner with friends the other night to check it out. There been no change in the decor other than, presumably, some mopping and dusting after all those years. The menu offers Japanese-American restaurant standards; there's no sushi bar but a list of maki sushi rolls. ...
Read the full review on LouisvilleHotBytes,
http://www.louisvillehotbytes.com/ikeba ... pper-space
You'll also find this review in LEO Weekly's Food & Drink section today.
http://www.leoweekly.com/category/food-drink/
Ikebana Japanese Restaurant & Sushi
2901 Brownsboro Road
384-7284
http://bit.ly/IkebanaLouisville
https://facebook.com/ikebana.ky
Robin Garr's rating:
71 points
Noise level:
Silence reigned in an almost empty dining room. (Average sound level 61-65 dB.)
Accessibility:
The entrance is accessible via a long ramp from the side parking area, but the big front doors are heavy. The restrooms are spacious but lack grab bars and other accessibility modifications.