Artesano bounces back from spring flood
LEO's Eats with Robin Garr
Lomo con papas sirloin at Artesano.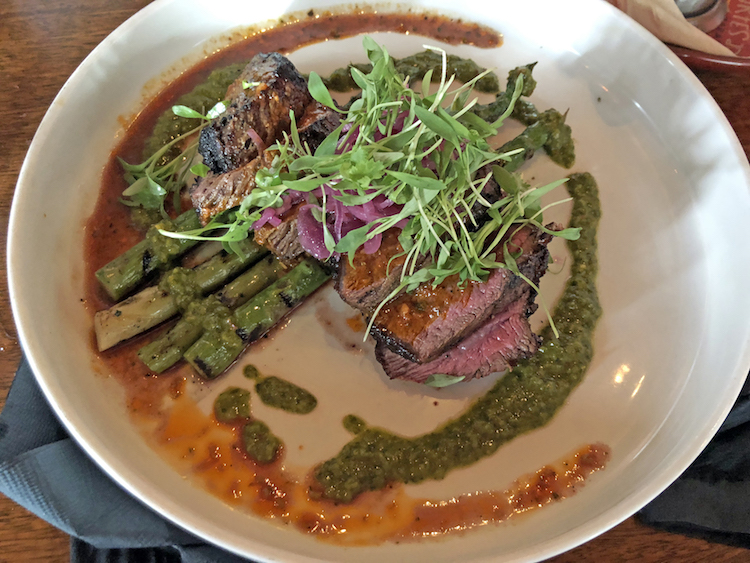 Certainly no one expected the monsoon-like rain storm and hail that smashed across Westport Road in February, dealing Artesano Vino Tapas y Mas a damaged roof and flooded dining room. The repair job took about two months, and the occasion for a reboot prompted a new look, some new dishes, and a new executive chef, Brian Curry, who came over from Napa River Grill to tweak the menu and oversee Artesano's April reopening.
We dropped in the other night with a group of friends, and I'm delighted to report that the new Artesano is just as good as ever, maybe even a small step up the evolutionary ladder. Its cool Euro-style vibe with red accents wasn't washed out by the rain, and the main dining-room layout looks inviting with long banquettes arranged in a large square. White walls are spotted with black bull's heads and photos from Spain (including a gallery of bullfighting photos that some might find disturbing). Sturdy wooden tables are set with quality silverware, white cloth napkins and shiny white plates.
The menu still focuses on tapas, of course, and it does a good job of riffing on the traditional snack of Jerez, Spain, where the dish was created to provide a cover or top ("tapa") to help keep the flies out of one's copa, a small glass filled with delicious sweet Sherry wine. Nowadays the tradition has spread worldwide, and now everyone mostly loads up on small plates and skips the Sherry.
You'll find a good choice of tapas on the Artesano menu, of course: eight of them, all rooted in Spain, ranging in price from $8 (for patatas bravas, Artesano's take on crispy fries with spicy brava sauce and garlicky aioli) to $14 (for roasted octopus with fregola pasta salad and more). Extending the tapas selection are interesting salads ($8 to $12); skewers and topped flatbreads ($10 to $13); and a charcuterie plate that you can build with your choice of Spanish meats and cheeses at $7 per cheese, $9 per meat, or $23 for the full chef's sampler board.
If you prefer to skip the whole small-plate thing and fill up on a large plate instead, seven full-size entrees range from $16 (for the house-ground sirloin burger with Spanish Tetilla cheese) to $25 (for
costilla de cerdo
, a pork chop stuffed with Mahon cheese and wrapped in serrano ham). ...
Read the full review on LouisvilleHotBytes,
http://www.louisvillehotbytes.com/artesano-bounces-back
You'll also find this review in LEO Weekly's Food & Drink section today.
http://www.leoweekly.com/category/food-drink/
Artesano
1321 Herr Lane
Westport Village
708-2196
http://artesano-restaurant.com
https://facebook.com/Artesano.tapas
https://instagram.com/artesanotapas
Robin Garr's rating:
85 points
Noise level:
Artesano is not a quiet environment, but conversation was possible in a somewhat less noisy side room. A crowd in the main room could amplify the noise. (Average sound level 77-84 dB.)
Accessibility:
The modern shopping center space appears fully accessible to wheelchair users.