Ninth Street is no barrier to the Jamaican joys of Roof Top Grill.
LEO's Eats with Robin Garr
Oxtail dinner at Roof Top Grill, with Jamaican cabbage, collards, and a corn muffin.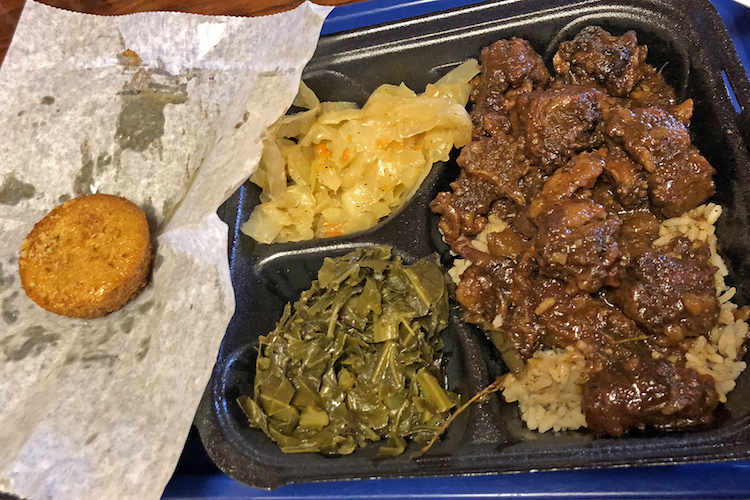 Let's tear down that wall, the imaginary one along Ninth Street that some people think separates our West End neighbors from the rest of us. I can't think of a better time than Derby season to do it, and I've got a great destination in mind: Roof Top Grill, a friendly eatery that turns out some of the best Jamaican food around.
Once you've smashed the barrier, you'll find Roof Top at the corner of Louis Coleman Jr. Drive, (formerly known as 34th Street), in a pale-tan stucco building with a green-and-black Jamaican flag painted on the side.
Sturdy bars on the doors and windows and glass enclosing the ordering area signal that this is an inner-city dining room, but the warm welcome and friendly crowd will make you feel right at home.
The long, narrow room is sparkling clean, with terra-cotta walls decorated with paintings of tropical scenes. A shrine-like grouping of photos at the back of the room features three images of Bob Marley and one of Dr. Martin Luther King Jr.
Be prepared to settle in and watch the big-screen televisions, as it may take a little while for your food to come out. Most dishes are prepared to order, and this care in the kitchen shows in high quality, hand-crafted renditions of Jamaican fare. ...
Read the full review on LouisvilleHotBytes,
http://www.louisvillehotbytes.com/roof-top-grill
You'll also find this review in LEO Weekly's Food & Drink section today.
http://www.leoweekly.com/category/food-drink/
Roof Top Grill
708 Louis Coleman Jr. Drive
785-4069
https://facebook.com/Rooftopgrilljamaicancusine
Robin Garr's rating: 85 points
Another location: 414 W. Oak St., 618-2287
Robin Garr's rating:
85 points
Noise level:
Quiet enough for easy conversation; volume on two screens tuned to ESPN was turned down low. (Average sound level 63-70 dB.)
Accessibility:
The level entrance forms no barrier to wheelchair users.