We came to Aladdin's for

labneh

. We stayed for all the food.
LEO's Eats with Robin Garr
Appetizers at Aladdin's: Silken

labneh

yogurt cheese and an intense, creamy hummus.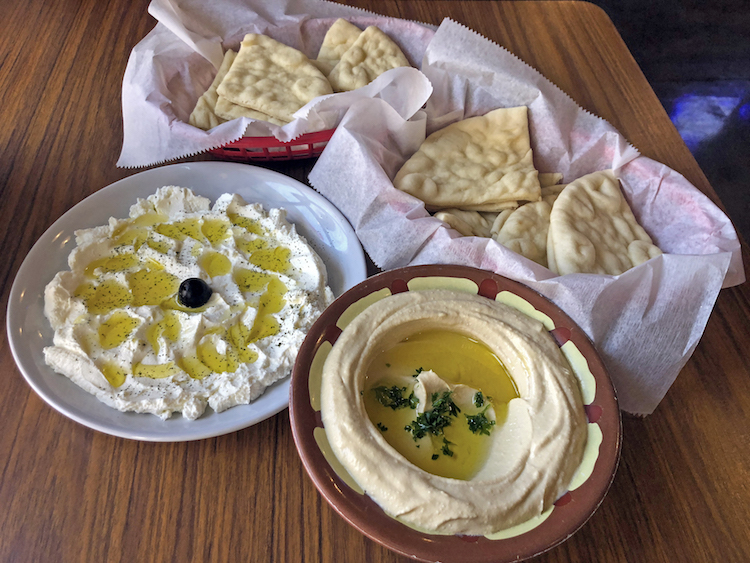 I love
labneh
, the thick, tangy, strained-yogurt cheese of the Eastern Mediterranean. It was a treat to get a dab of
labneh
, dotted with pumpkin seeds, atop a risotto at Marketplace last week, but a bite only made me want more. So we headed over to the highly regarded Aladdin's Cafe in New Albany the other day, where you can get the stuff in a sandwich or on a plate.
We came for the
labneh
, and we ate all the food, or a good share of it anyway.
Aladdin's – which our server told us is not connected with the recently arrived Aladdin's Cafe Louisville on Bardstown Road – fills one side of the charming Underground Station complex, located at the foot of Bank Street. (It's named in fond homage to the nearby Town Clock church – now Second Baptist – which before the Civil War housed a station on the Underground Railroad that helped runaway slaves find their way to freedom.)
Aladdin's quarters are open and bright, with dark reddish walls highlighted with four big screens (tuned variously to Travel Channel, Food TV and ESPN), along with a few lighted signs advertising craft-look beers from major brewers. It's filled up with undraped wood-look tables set with simple flatware rolled in white paper napkins.
Although the family that owns Aladdin's is Jordanian, the menu comprises pretty much the usual suspects found at the metro's many restaurants serving the cuisines of the Mediterranean countries from Greece to the Levant and Egypt: gyros, falafels, shawarma, kibbeh, kebabs and you get the idea.
But the way they put the dishes together is amazing. Aladdin's is not just another gyros joint but a simple restaurant turning out appetizing, thoughtfully prepared dishes that reveal a serious chef in the kitchen. Dishes are prepared to order, prompting the menu's warning, "to maintain the quality and freshness of your meal, your patience will be greatly appreciated." That said, however, we were in and out in just under an hour. ...
Read the full review on LouisvilleHotBytes,
http://www.louisvillehotbytes.com/aladdins-labneh
You'll also find this review in LEO Weekly's Food & Drink section today.
http://www.leoweekly.com/category/food-drink/
Aladdin's Cafe
37 Bank St.
New Albany, Ind.
(502) 489-7969
http://thealaddinscafe.com
https://facebook.com/Alladincafe
Robin Garr's rating:
88 points
Noise level:
Conversation is easy, even with many tables occupied at lunch. (Average sound level 65-72 dB.)
Accessibility:
Built entirely on the level, it appears to offer no obstacles to wheelchair users.