Even on a quiet night, Marketplace rocks
LEO's Eats with Robin Garr
Fresh scallops in a tomato fennel lobster broth with pappardelle pasta at Marketplace.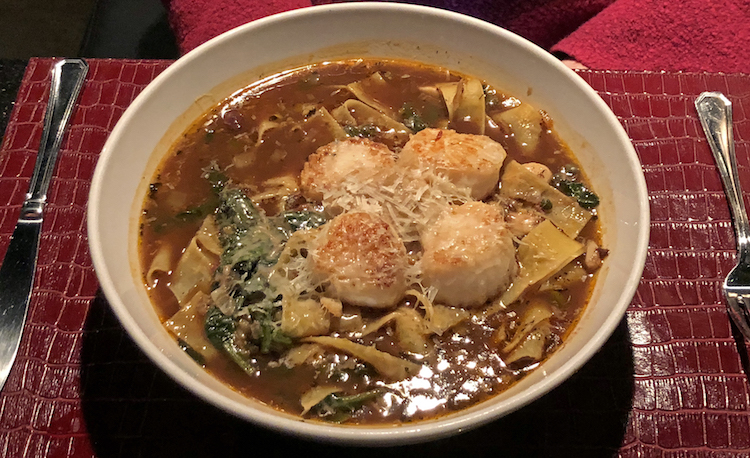 We had such a good time checking out Main Street last week that we decided to hit the other end of downtown for dinner at Marketplace. Hmm. This block is different.
Walk down Fourth Street toward Broadway on a quiet evening when there's nothing playing at the Palace, Mercury Ballroom or the Brown Theatre, and you may not meet another human being. Until you get to Marketplace Restaurant, anyway.
Actually, even Marketplace was empty at first the other night, save for the bartender and a server. To be honest, a space this large, with its square gray columns and drum-shaped lights hanging above, feels a bit eerie when there's no one around. Rows of shiny wooden tables were lined up in empty rows, glowing under theater-style spotlights that recall the building's original use as the Kentucky Theater.
A warm welcome quickly reset the mood, and so did warming drinks and exceptional fare. Before long, arriving diners filled a few more tables, and we were glad we came.
It was my first return to Marketplace since Chef Dallas McGarity left in 2016 to start Fat Lamb. How are things faring at Marketplace under Chef Zac Young? Very well. Even on a quiet night.
The menu is not overly long but offers good variety. A dozen interesting starters and salads would make fine small plates on their own. They range in price from $9 (for sunchoke hummus, pommes frites, or a hearts-of-palm salad) to $16 (for a bit of foie gras perched on caramelized onion corn cake).
Pricing for the 10 entrees approaches special-occasion levels. Other than the $17 double steakburger, main courses range from $23 (for the only meatless main, butternut squash risotto) to $42 (for a center-cut filet); most are priced in the $30s.
Marketplace's lovely bar offers a virtual library of adult beverages; it earns its spot on the Urban Bourbon Trail with more than 110 bourbons. I sampled the evening's drink special, a two-ounce order of David Nicholson 1843 wheaten bourbon, half served neat in a bourbon tasting glass, the other half made into Marketplace's take on a Godfather cocktail, blended with Luxardo maraschino liqueur.
With the first bite of our appetizer, puff pastry tartlets ($10). it became clear that this was going to be no ordinary dining experience. ...
Read the full review on LouisvilleHotBytes,
http://www.louisvillehotbytes.com/even- ... lace-rocks
You'll also find this review in LEO Weekly's Food & Drink section today.
http://www.leoweekly.com/category/food-drink/
Marketplace Restaurant on Theatre Square
651 S. 4th St.
625-3001
http://theatersquaremarketplace.com
https://facebook.com/marketplace4th
Robin Garr's rating:
91 points
Noise level:
On a quiet evening with few customers and soft jazz on the sound system, conversation is easy. (Average sound level 60-70 dB.)
Accessibility:
This completely renovated building appears fully accessible to wheelchair users, with no steps or bumps.