Yum Center bound? Dine at BBC first
LEO's Eats with Robin Garr
BBC's sirloin steak, served medium-rare as ordered.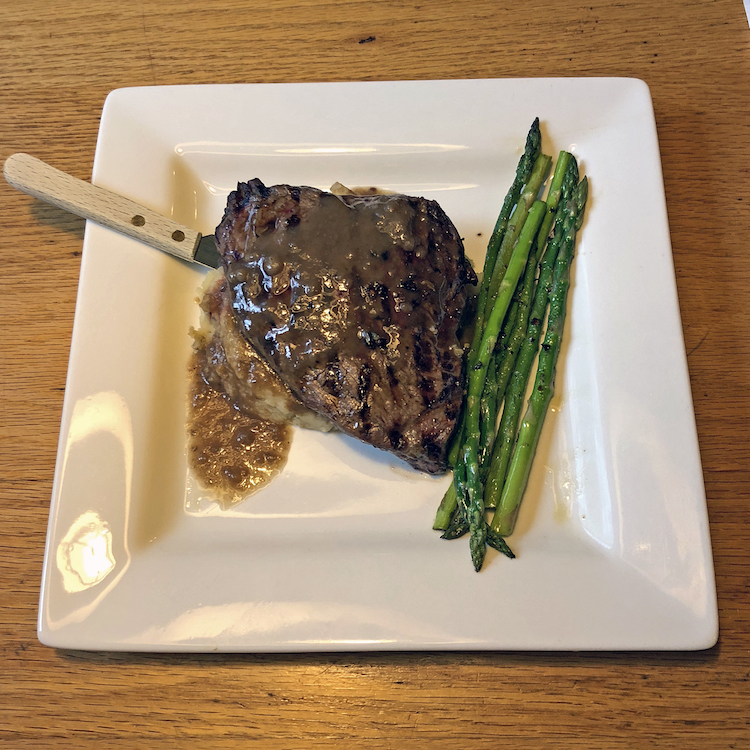 Say what you will about the Yum Center – and I say it looks like the offspring of an unnatural union between a toaster oven and an ink-jet copier – you have to give it credit for helping foster a boom in good places to eat in its Main Street neighborhood. Like Bluegrass Brewing Company. And other good places, too, but BBC, I'm looking at you right now.
BBC's arena shop popped up in August 2010, just in time to welcome the Yum, in the first three floors of the handsome white-stone 300 Building at Third and Main streets. The 1880 structure, originally the Kentucky Bank Building, is on the National Register of Historic Places.
It's conveniently located diagonally across the street from the Yum, next door to ATL, and just a quick 2 1/2 block dash from the Kentucky Center for the Arts.
Of course other options abound in the neighborhood, too, from pricey Jeff Ruby's, which was there to meet the Yum, and stylish, upscale MilkWood below Actors, which came along a bit later, to quick arrivals Impellizzeri's Pizza, Merle's Whiskey Kitchen, and Doc Crow's, not to mention neighborhood pioneer Bearno's by the Bridge, and drinks-focused Down One Bourbon Bar and Troll Pub Under the Bridge.
So there is plenty of choice around the Yum, and certainly arena-bound crowds helped drive the boom. BBC remains one of my top picks, though. It makes the case with a decent, quick and modestly priced meal, plus a glass of good local microbrew, before or after the show.
Currently the last BBC shop standing, it is rooted in Louisville's oldest surviving brewpub, which launched in St. Matthews some 25 years ago and lasted until its closure last year. The BBC in Kindred Healthcare is also on construction hiatus, so for now, if you want BBC, this is the place to go. The locally brewed beer is the same, and the menu is familiar, kicked up to dining-room character with entrees that top out at $19 for an Angus sirloin plate.
Don't worry, you can get your pub grub here, whether it's fried pickle spears ($7, elevated with beer batter and crunchy panko), nachos ($12), brew house chili ($5 for a cup, $6 for a bowl), or BBC's iconic wort hog wings ($12). But the bill of fare quickly moves up from pub land with a half-dozen salads - try the powerhouse ($11), loaded with healthy kale, quinoa, nuts and seeds). Pizzas are $13 to $14, or build your own pie starting at $10 and building up with a la carte toppings. ...
Read the full review on LouisvilleHotBytes,
http://www.louisvillehotbytes.com/yum-bound-choose-bbc
You'll also find this review in LEO Weekly's Food & Drink section today.
http://www.leoweekly.com/category/food-drink/
Bluegrass Brewing Co.
300 W. Main St.
562-0007
http://bbcbrew.com
https://facebook.com/bluegrassbrewarena
Noise level:
Variable. At best, conversation ranges from easy to possible, but noisy neighbors can spike the sound to a dull roar. (Average sound level 75-85, with peaks to 95.)
Accessibility:
The three-floor restaurant is accessible to wheelchair users via a ramp and one-person elevator at the entrance on the Third Street side.