La Lupita stands out in Clarksville
LEO's Eats with Robin Garr
A hearty lunch at La Lupita.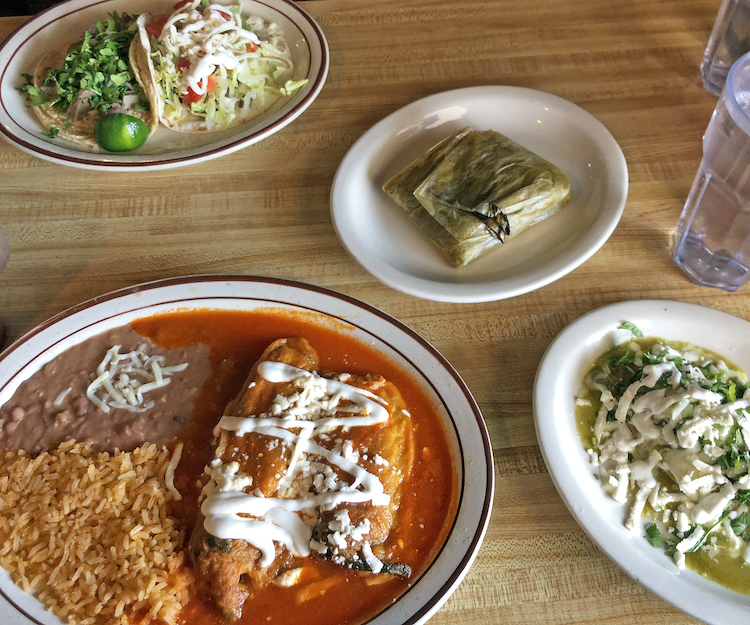 Can a dining decision be political? You bet! When nightly news shows horrifying images of immigrant parents ripped from their families while partisans shout for a border wall, it's time to call B.S. The best way I know to do that is to take my dining business to local restaurants run by Latino neighbors, such as the spectacularly good La Lupita in Clarksville.
And while I'm there, happily noshing, I want to thank the owners and servers and tell them I'm glad they're here: "
Me gusta que tu eres mi vecina
," I'll say in fractured Spanglish, reaching out with a few words in their language. "I'm happy that you are my neighbor."
It's easy to find good Mexican eateries around town nowadays, as they've proliferated in recent years. Just about every neighborhood has a few, but many of the real Spanish-speaking taquerias are concentrated in the South End, along Preston Highway, and across the Ohio in Clarksville.
We took a quick run across the bridges the other day and were amply rewarded by my first visit to La Lupita. The first won't be the last. Based on an exceptional meal and stellar service, I'm naming this lovable little eatery No. 1 in the local taqueria sweepstakes. What's more, it's the only local taqueria I know of that specializes in the regional cuisine of Oaxaca ("Wa-
hah
-ca") in far southern Mexico.
The restaurant is bigger inside than it looks, with two fairly large bright rooms loaded with exuberant, colorful Mexican decor.
The colorful four-page menu offers more than 60 dishes, many under $10, topping out with meat and seafood dinners between $11.99 and $14.99. Be sure to look for the Oaxacan specialities scattered among the more familiar Mexican dishes. They're worth seeking out. ...
...
Read the full review on LouisvilleHotBytes,
http://www.louisvillehotbytes.com/lupit ... larksville
You'll also find this review in LEO Weekly's Food & Drink section today.
http://www.leoweekly.com/category/food-drink/
La Lupita Mexican Restaurant
827 Eastern Blvd.
Clarksville, Indiana
(812) 285-0083
Facebook:
http://bit.ly/LaLupitaIN
Noise level:
Conversation is easy. (Average sound level around 65 dB)
Accessibility:
Entrance and restrooms are level and appear accessible to wheelchair users. There's a high curb in front of the entrance, so it's best to park near the east end of the building, near the curb ramp.