MozzaPi brings bread maker's art to remarkable pizza
LEO's Eats with Robin Garr
A traditional cheese pizza and a pleasantly spicy spinach and ricotta pie at MozzaPi.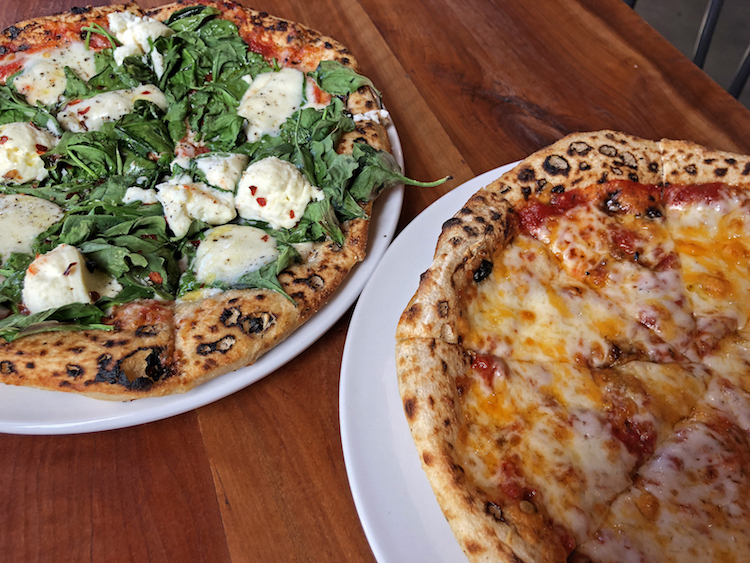 Which came first: The pizza or the bread? A trip out to Anchorage to visit the excellent MozzaPi might recalibrate your thinking on this not-so-simple question.
After all, if you've been eating pizza in Louisville over the past generation, you may be excused for thinking that pizza is all about the toppings. That's the way Derby City pizzerias roll at such iconic local pizzerias as Impellizzeri's, Clifton's and Wick's, where the signature pie is piled high with such goodies as sausage, pepperoni, mushrooms, onions, bacon, and more. Crust? Nah. It's just a vehicle for the goods.
But travel to Italy, particularly to sunny Naples where pizza was born, and you'll find a completely different approach. Serious Neapolitan pizza is about the bread, not the tomatoes and cheese. We're talking about crusty, chewy, firm Italian bread rolled out paper-thin, topped only lightly with fine ingredients, then set next to a searing wood fire just long enough to sizzle the toppings and mark that crusty bread with dark, sweet charred blisters.
That, folks, is what real pizza is all about. And that's what you'll get when you make the pilgrimage out to MozzaPi, where owner and certified pizzaiolo Tom Edwards is making remarkable artisanal breads from organic ancient grains grown by Kentucky farmers and milled in-house for the breads and combined with Italian Tipo 00 flour for the pizzas. (The bread business operates as LouisMill, sister company to MozzaPi.)
Head East through suburban Anchorage, and just a hundred yards or so after LaGrange Road crosses the tracks on the way to Crestwood, you'll spot MozzaPi's new brick building that looks like an oversize barn.
Built by Edwards with his sister and her husband, MozzaPi houses a remarkable pizza oven that's wrapped in a shiny copper enclosure. "Over the years I have built several wood ovens, and this one is my latest creation," Edwards said. "The oven core itself is a LaPanyol from France … made from clay that is fired at 2,000 degrees to form modular pieces.   This allows for more even heat retention and better performance."
MozzaPi serves pastries with coffee and espresso drinks weekday mornings; weekend brunch adds sourdough English muffin breakfast sandwiches priced from $6 to $8. Lunch brings pizza time, with a half-dozen 9-inch pies from $8 for plain cheese to $12 for any of several specialty pies. There's also Italian sandwiches ($12), salads ($9 to $11), and a house rosemary focaccia bread appetizer ($3). There's an extensive list of bottled beers and a shorter but well-chosen wine list. ...
Read the full review on LouisvilleHotBytes,
http://www.louisvillehotbytes.com/mozzapi-bread-pizza
You'll also find this review in LEO Weekly's Food & Drink section today.
http://www.leoweekly.com/category/food-drink/
MozzaPi Pizza
12102 La Grange Road
494-7012
http://mozzapi.com
https://twitter.com/mozzapi
https://instagram.com/mozzapi
Robin Garr's rating: 92 points
Noise level:
Not too loud for conversation.
Accessibility:
The entrance and restrooms appear accessible to wheelchair users.