Øskar's offers a delightful taste of Scandinavia
LEO's Eats with Robin Garr
Sliders and more at Øskar's Slider Bar.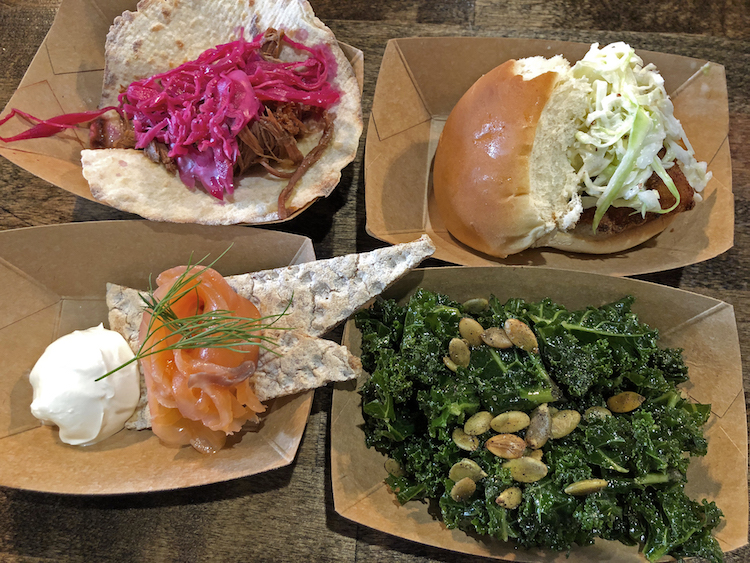 How is Øskar's Slider Bar delightfully different from just about every other eatery in town?
Uff da
! Its light, amusing Scandinavian vibe sets it geographically and culturally apart from all the local restaurants that fake a drawl while frying chicken and simmering grits.
Even the good folks from Top Chef, announcing their plan to highlight Kentucky next season, seemed to see us in terms of country hams, sorghum, fried chicken, burgoo, and mutton! Okay, fine. This all may be true, but it is incomplete.
Enter Øskar's, an eatery and watering hole in the style of a Minnesota dive bar! Newborn sibling to Grind Burger Kitchen, this fun new spot fills the old Frolio's (briefly Teena's) pizza joint at the corner of Poplar Level Road and Trevilian Way.
Øskar's, its owners Liz and Jesse Huot say, is lovingly named after their 2-year-old son with the Scandinavian Ø swapped in. A longtime dream based on the Huots' Norwegian heritage, it finally bore fruit only after Grind achieved its full evolution from food truck to Preston Highway storefront to its current spot in NuLu.
Following a long trip through Wisconsin, Minnesota and the Dakotas for research, the Huots opened Øskar's early in the winter, an appropriate season for a casual spot that may remind you a bit of the movie Fargo, only without crime or snow.
Don't look for a menu that dives deeply into the subtleties of Norwegian, Swedish, and Danish cuisines: Sliders are small plates, one slider each, borne on shallow rectangular bowls folded from brown cardboard. The former pizzeria remains simple, too, with sturdy butcher-block tables, heavy chairs, dark terrazzo floors, and tongue-in-cheek decor touches that will keep you smiling.
Most memorable, perhaps, is a wooden grizzly bear that was carved from an 8-foot length of a single pine tree, fashioned for them by a California artist after they saw a similar bear on Pinterest. "It weighs 900 pounds and took six professional movers to get it out of the crate and placed in the restaurant," Liz Huot says. "He's pretty amazing. We love him."
The menu is concise, offering just 14 sliders, four salads and fries; and the sliders range in price from $2.50, yes, two dollars and fifty cents, for a ham-and-swiss slider, to a max of just $4 for a lamb slider or hand-made gravlax, Norway's answer to lox. No, you probably can't eat just one, but six sliders and two salads made a meal for the two of us. Okay, I could probably have downed a couple more, but I didn't need them, if you know what I mean. ...
Read the full review on LouisvilleHotBytes,
http://www.louisvillehotbytes.com/oskar ... candinavia
You'll also find this review in LEO Weekly's Food & Drink section today.
http://www.leoweekly.com/category/food-drink/
Øskar's Slider Bar
3799 Poplar Level Road
http://oskarssliderbar.com
https://facebook.com/oskarslouisville
https://instagram.com/oskarssliderbar
Robin Garr's rating: 89 points