Appealing Sarino carries Vincenzo's DNA, but it's no clone
LEO's Eats with Robin Garr
A margherita pizza, the classic Neapolitan pie, shows off Sarino's authentic pizza skills.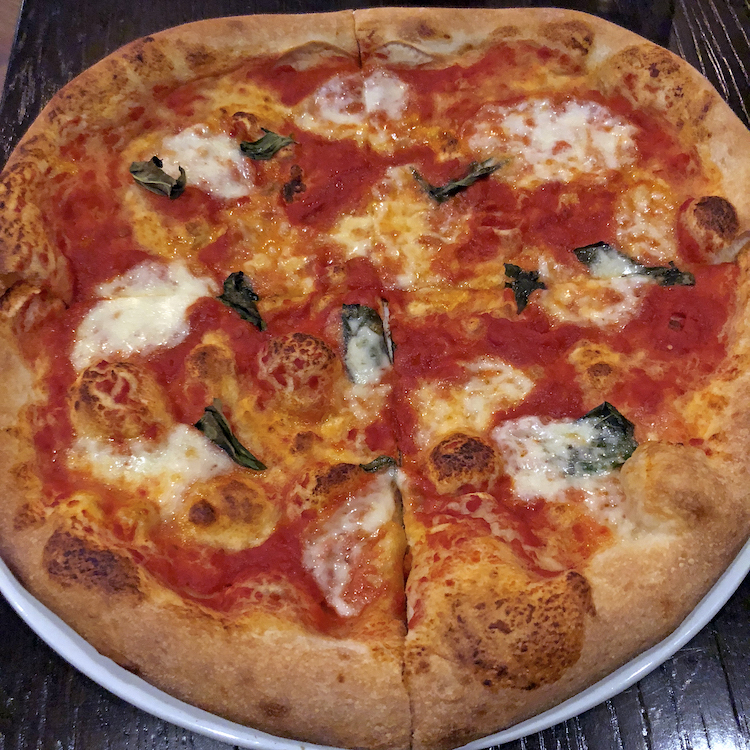 Vincenzo and Agostino Gabriele reinvented the Louisville dining scene a generation ago. Now Agostino's sons, Carmelo and Michael Gabriele, have opened their own Italian restaurant in Germantown, named Sarino after the family nickname for another uncle, Rosario.
Will Sarino be something like Vincenzo's Jr., then? I'm going to say no. But that's no slam. Sarino is delightful in its own right, but it is as different from Vincenzo's as millennials are different from baby boomers and as different as downtown is from Germantown.
The elder brothers reimagined fine dining in Louisville with their laser-like focus on elegance, attentive service that some find bordering on fawning and, of course, excellent, authentic regional Italian cookery. All this was new and exciting to then steak-and-potatoes Louisville when Vincenzo came to the fabled Casa Grisanti in the 1970s, then opened Vincenzo's with Agostino a decade later.
But that was a long time ago. We know fine Italian dining now, so there's no shock of the new as the younger Gabrieles move in to the striking A-frame that briefly housed the short-lived Germantown Craft House and the even shorter-lived Goss Ave. Pub.
The third try on the premises may be the charm for the younger Gabrieles, based on a recent dinner visit that served up one Italian delight after another. Fine, authentic Italian fare follows the family tradition, but it's in a younger Germantown style now, in a comfortably casual setting; service is friendly and competent with nary a whiff of smarm. and dinner pricing mostly in the teens makes it a good choice for a casual date night, not just a special occasion.
The menu offers main courses including nine entrees, a dozen pizzas (plus a build-your-own option), and a dozen pasta dishes. Pricing ranges from as little as $6 (for a small order of spaghetti
pomodoro
, with tomato sauce) to a max of $25 (for a New York strip); pizzas top out at $17 (for the Porker, a meat-heavy pie). A dozen appetizers and salads are $3 to $12, and a charcuterie-and-cheese menu offers a choice of 11 Italian meats and cheeses from $4 to $7.
The two large, connected rooms are both comfortably spacious, the striking, spare glass-walled dining room and the more enclosed barroom with its long, brick-backed bar that forms an L around two sides of the room. he striking, spare space rises to high, vaulted, raftered ceilings, with floor-to-ceiling glass walls in the dining room. Heavy, undraped wooden tables are set with attractive flatware and soft, sizable cotton napkins. ...
Read the full review on LouisvilleHotBytes,
http://www.louisvillehotbytes.com/sarin ... nzos-clone
You'll also find this review in LEO Weekly's Food & Drink section today.
http://www.leoweekly.com/category/food-drink/
Sarino
1030 Goss Ave.
822-3777
http://sarinolouisville.com
https://facebook.com/sarinolouisville
https://instagram.com/sarinolouisville
Robin Garr's rating: 90 points