Porcini's landmark status is well and fully earned
LEO's Eats with Robin Garr
Porcini's

capellini pomodoro e basilico

, angel-hair pasta with tomatoes and basil.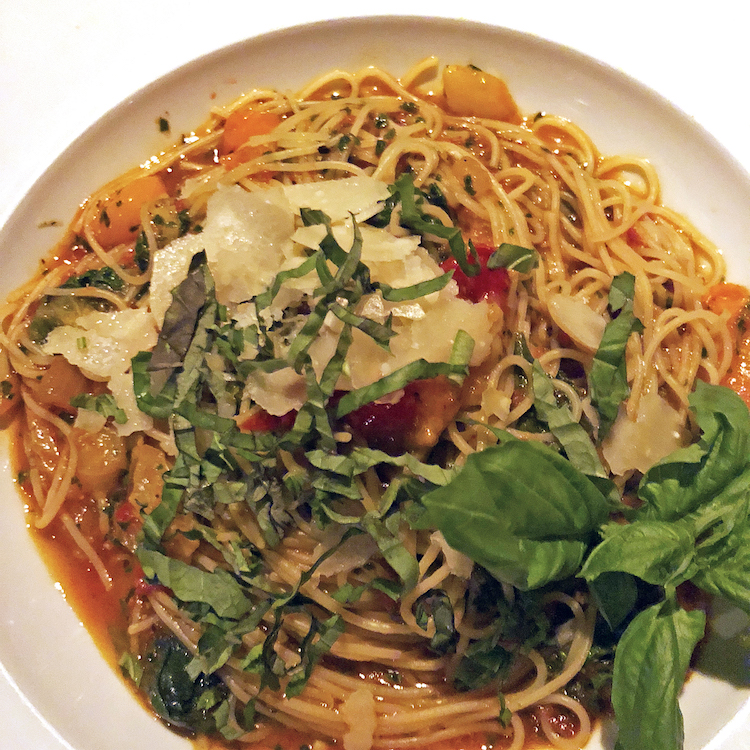 It seems as if Porcini just got here. It seems as if Porcini has been here forever. The truth, as usual, lies between these extremes, but one thing is certain: The years have flown since I first sat down to a fine Italian dinner at this comfortable Frankfort Avenue landmark.
It was in the early spring of 1992, to be exact, when I came back to Louisville for my first visit since leaving my reporter's post at
The Courier-Journal
for a job with a national non-profit in New York City. I had an assignment to do a Derby travel piece about Louisville for
The New York Times
travel section, and the hot spot on the dining scene was this great new Italian place, Porcini.
Sure enough, I loved it, and I told
Times
readers so. When we came back to Louisville a few years later to write a book about my non-profit experience, I reviewed Porcini often for my new restaurant website that would become LouisvilleHotBytes.com. But then Porcini became so familiar that I drifted on to fresher experiences. Until I noticed the other day that my last review – a glowing report – was dated October 2004. Could that possibly be right?
It was long past time to return, so we gathered our friends Bill and Mary Ruth and Don and Pat, and spent a happy evening of munching and sipping that left no doubt: Porcini is as good as ever. Maybe even a little better.
It's surprising how little has changed since that 2004 review. Chef John Plymale was new on the scene then; he's an old hand in Porcini's kitchen now. The look and feel of the exposed red-brick room hasn't changed much, and that's a good thing. Its turn-of-the-previous century brick building fits just right in to this particularly fine stretch of Frankfort Avenue. ...
Read the full review on LouisvilleHotBytes,
http://www.louisvillehotbytes.com/porcini-landmark
You'll also find this review in LEO Weekly's Food & Drink section today.
http://www.leoweekly.com/category/food-drink/
Porcini
2730 Frankfort Ave.
894-8686
http://porcinilouisville.com
https://facebook.com/porcinilou
https://instagram.com/porcinilou
Robin Garr's rating: 91 points