LouVino and Con Huevos win at brunch
LEO's Eats with Robin Garr
Chicken biscuit sliders on LouVino's Sunday brunch menu.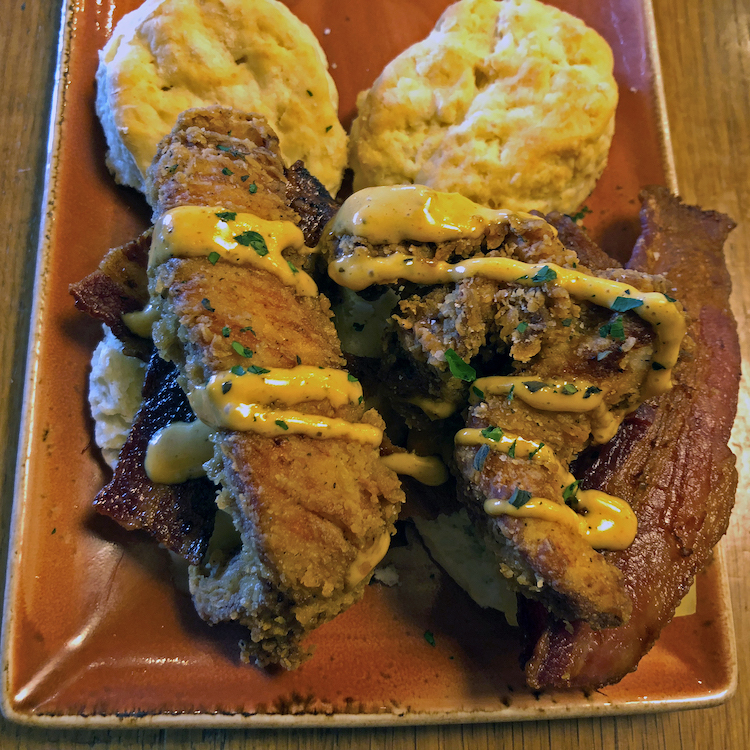 Fresh from delicious brunch experiences at LouVino and Con Huevos, I must ask a simple question: Who doesn't love brunch? I certainly do!
Some folks love brunch buffets, and there's a lot to like about a sumptuous feeding trough of pans loaded with breakfast and lunch goodies. But I like a set menu of brunch dishes even better. Sure, I'm down for unleashing my inner glutton at a massive buffet, but my inner foodie recognizes the value of chef-created individual dishes.
Both Con Huevos and LouVino offer thoughtful, inviting selections of brunch dishes that consistently show the delicate, complex but balanced nuances of flavor that reveal serious creative spirit and dogged attention to detail in the kitchen. Then they present these dishes with artful plating that underscores this commitment. In short, they care about quality, and it shows.
Brunch is served at LouVino from 10 a.m.-3 p.m. Sundays, and the menu features a dozen choices, most of them clustered in price from $10 (for many items) to $12 (for a farmer's market scramble with weekly variations on locavore meats, veggies and cheese). Outliers are an $8 order of stuffed french toast and an $18 steak-and-eggs ...
Brunch at LouVino
1606 Bardstown Road
365-1921
http://louvino.com
https://facebook.com/louvinowinebar
https://instagram.com/louvinolou
Robin Garr's rating: 90 points
Other locations at 11400 Main St., Middletown, 742-1456, and in Fishers, Ind., suburban Indianapolis; a Cincinnati location is planned this year.)
Con Huevos may be one of my favorite restaurants in Louisville. Why would anyone love a storefront so tiny that it houses only four tables and a five-seat bar? Please repeat that hymn of praise that I sang above, the one about consistency, detail, artful presentation, and commitment. Got it? Go, soon.
And here's great news for East Enders: Another Con Huevos is coming soon! The second Con Huevos, at 4938 US 42 in the Holiday Manor area, may open during March if all goes well, co-owner Izmene Peredo said. It will seat 100 and add a liquor license. "We will finally be able to sell some cocktails like Guadalajara mornings, a mimosa with tequila," Peredo said.
Brunch and lunch are served seven days a week, not just Sundays, from a menu that incorporates both breakfast and lunch dishes. Seven huevos (eggs) dishes are all $10.99 to $11.99, as are three-taco plates and most burritos. Sandwiches range from $10.99 to $13.49. ...
Con Huevos
2339 Frankfort Ave.
384-3027
http://conhuevos.com
https://facebook.com/ConHuevosRestaurant
https://instagram.com/conhuevosbreakfastandlunch
Robin Garr's rating: 91 points
Read the full reviews of both restaurants on LouisvilleHotBytes,
http://www.louisvillehotbytes.com/louvi ... win-brunch
You'll also find this review in LEO Weekly's Food & Drink section today.
http://www.leoweekly.com/category/food-drink/