bar Vetti lights up a renewed 800 Building
LEO's Eats with Robin Garr
Trout with butter beans and black truffle at bar Vetti.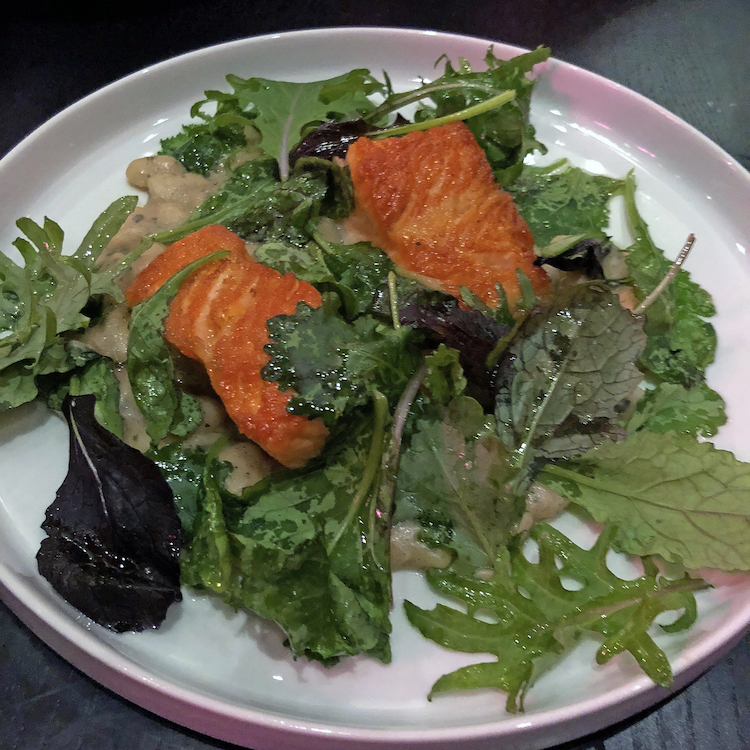 Who knew that a hot new eatery would bring Louisville rushing back to the old 800 Building? Old-timers might consider this unlikely, but the delightful bar Vetti (management prefers the lowercase "bar") fits nicely in the renovated turquoise tower.
The 800 caught the city's attention in a big way when it topped out in 1963. It was tall! At 29 stories and almost 300 feet, it was the tallest building in a city that didn't have all that many skyscrapers during the '60s. It was a striking modern aluminum curtain-wall high-rise … and did we mention that it was turquoise?
Unfortunately for the 800, two things happened pretty quickly after it opened for business: Downtown hollowed out, ravaged by white flight to the suburbs; and turquoise became oh, so '50s, just as the '60s were getting under way. Like an old harvest gold refrigerator repurposed as a rec-room bar fridge, the 800 stood hidden in plain sight for a generation.
But everything that is old becomes new again, and so has the 800, reborn under new owners as the upscale 800 Tower City Club Apartments, with the charming bar Vetti proudly occupying a first-floor corner. Chef Ryan Rogers, who brought us Royals Hot Chicken and the two Feast BBQ shops, and co-owner and executive chef Andrew McCabe, who's done kitchen time at Harvest and Proof, have been attracting steady crowds since bar Vetti opened in October.
They call it a "laid-back Italian spot," and that fits the bill of fare and intriguing Italian-style bar program, although there's a touch of Kentucky, too, when Broadbent country ham replaces prosciutto and a nice range of bourbons drops in among the amari and aperitivos.
We and our friends Bob and Sharon found street parking – the building's underground spaces are reserved for residents – and entered through the small front door facing Fourth on the corner closest to York.
The space is surprisingly small, seating about 50 in a tight 1,800-square-foot L-shape wrapped around a stylish bar. ...
Read the full review on LouisvilleHotBytes,
http://www.louisvillehotbytes.com/bar-v ... 0-building
You'll also find this review in LEO Weekly's Food & Drink section today.
http://www.leoweekly.com/category/food-drink/
bar Vetti
800 S. 4th St.
883-3331
barvetti.com
facebook.com/barvetti
instagram.com/barvetti
Robin Garr's rating: 91 points
__________________________