Hull & High Water's oysters inspire hymns of praise
LEO's Eats with Robin Garr
Hull & High Water's excellent pan-fried oysters with choice of two sauces.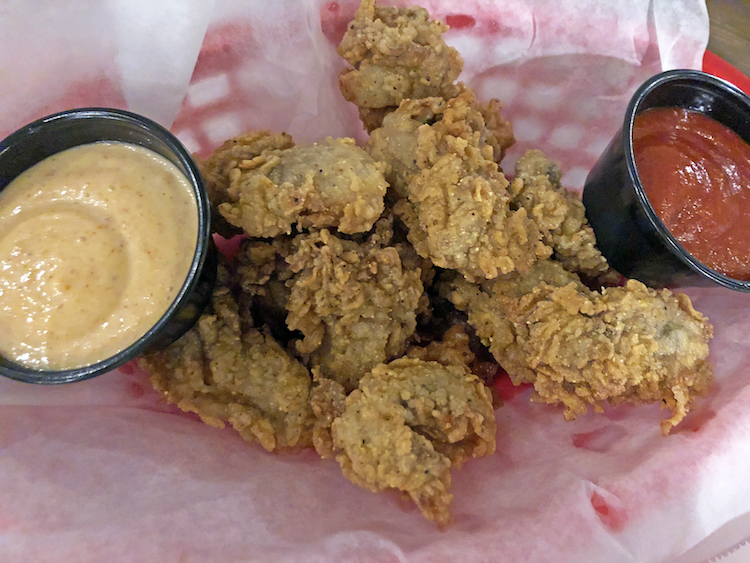 When we headed over to the new Hull & High Water the other evening, our friend Don said he was afraid he would be a pretty tough judge. Just back home from a conference in Boston, he had taken advantage of the opportunity to sample some of Beantown's finest oysters and fish.
A half-hour later, though, he was singing a different tune, and Mary and I and our friend Anne were joining the hymn of praise in four-part harmony.<!--more-->
Who needs Boston, anyway? Everything about Hull & High Water was? good. Open since the end of September, this partner restaurant to nearby Gospel Bird has been packing in crowds, particularly on weekends, doing a surprisingly good job of replicating a Florida beach seafood shack. Except for the Southern Indiana fall and winter weather, anyway.
When evenings grow chilly, the big overhead garage doors come sliding down, turning it into a cozy if spartan room with painted schools of fish adorning the concrete-block walls. The adjacent bar room is weatherproof all year, brightened by wall-size murals of old-time sailing ships. A long banquette splits the dining room, and wood-top tables served by orange metal chairs are set with flatware wrapped in paper napkins and tucked into small metal buckets.
Hull & High Water hits a sweet spot amid the price and ambience extremes of the region's seafood and fish restaurants: It's more fancy than the plethora of fish-sandwich spots, but not as upscale as the high-end fish houses. There's plenty of fried food, but also a well-stocked raw bar, po'boys, Low Country boils, tacos, and fancy platters. ...
Read the full review on LouisvilleHotBytes,
http://www.louisvillehotbytes.com/hull- ... ed-oysters
You'll also find this review in LEO Weekly's Food & Drink section today.
http://www.leoweekly.com/category/food-drink/
Hull & High Water
324 E. Main St.
New Albany, Ind.
(812) 590-2249
facebook.com/pg/Hullandhighwater
instagram.com/hullandhighwater
Robin Garr's rating: 88 points