Caribbean Cafe delivers a happy taste of Haiti
LEO's Eats with Robin Garr
Caribbean Cafe's cabrit et sauce: stewed goat with Creole seasonings.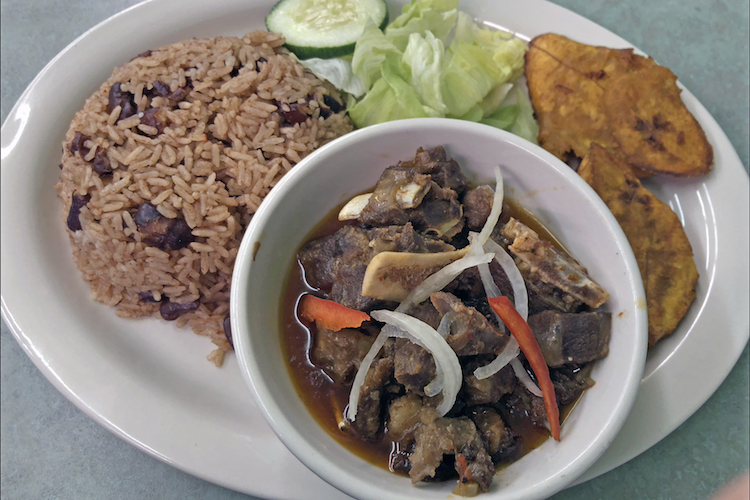 As autumn marches toward winter and colder weather wraps the region in its frigid embrace, thoughts of the sunny Caribbean dance in our heads like visions of sugar-plums and other happy things.
Mention the Caribbean, and chances are you'll think of white-sand beaches, cruise ships, sun-tans, strong drinks served in coconut shells, and balmy relaxation. Tourism, after all, is the No. 1 economic driver for the region, according to the Caribbean Tourism Organization, and the people of the 700 islands that make up the Caribbean archipelago are working to recover from the damage dealt by Hurricanes Irma and Maria this summer as quickly as they can. For Puerto Rico, Barbuda and a few others, sadly, that's going to take a very long time.
While we wait, here's good news: Caribbean restaurants are blossoming in the metro, so at least we can enjoy their bright, flavorful dishes without having to buy airline or cruise tickets. Here are three to put on your list: In the West End, Roof Top Grill (at 708 Louis Coleman Jr Drive, 785-4069) offers us a taste of Jamaica. Clarksville's Naila's Caribbean Cuisine (1370 Veterans Parkway, 725-0399) serves up pan-Caribbean fare with a touch of the immigrant flavors of India that light up the cuisine of Trinidad and other Caribbean nations. In Beechmont, please welcome Caribbean Cafe, a recent arrival that cooks up the food of Haiti with warm welcomes and friendly smiles.
I hope to get around to all three before long, but thought I'd catch up with Caribbean Cafe first, both because it's Louisville's first taste of Haitian food, and because of its inviting location on the lovable block of Woodlawn Avenue between South Third Street and Southern Parkway, which is surely one of Louisville's most intriguingly diverse communities.
Caribbean Cafe's good-size storefront room is painted in bold greens and yellows, with folk art on the wall and two flat-screen televisions, one usually turned to CNN with the volume up, another to soccer with the volume off. Pale-green tabletops and comfortable wooden chairs fill the room, and you place your order at a high counter at the back of the room.
The menu, by the way, is in English, with some additional information in Haitian Creole, which is close enough to French that with a bit of background
en Français
, you can generally figure it out. Not that there's a need, as the helpful staff all speak American English.
Almost twenty main dishes come in generous portions and include abundant sides of fried plantains, rice and beans. ...
Read the full review on LouisvilleHotBytes,
http://www.louisvillehotbytes.com/carib ... vers-haiti
You'll also find this review in LEO Weekly's Food & Drink section today.
http://www.leoweekly.com/category/food-drink/
Caribbean Cafe
317 W. Woodlawn Ave.
434-7711
Facebook:
http://bit.ly/CaribCafe-FB
Robin Garr's rating: 85 points