VGrits works vegan magic with meat-free seafood and fish
VGrits works vegan magic with meat-free seafood and fish
LEO's Eats with Robin Garr
Our critic's selections for the V-Grits main course.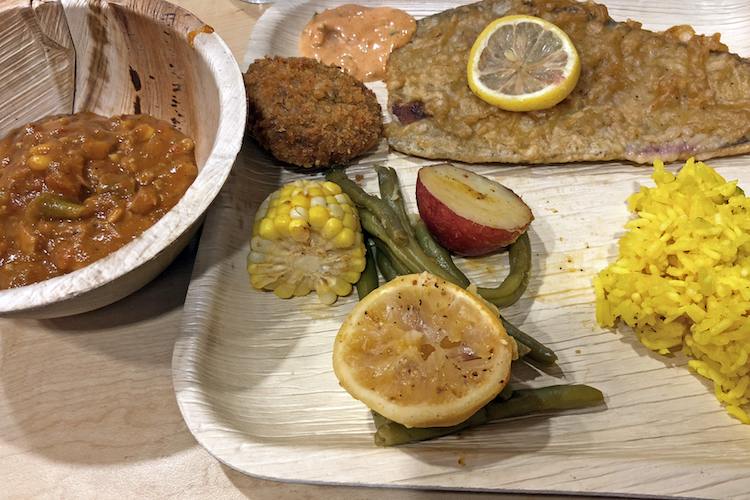 You'd be surprised to know how many people who give up eating tasty animals for reasons pertaining to the environment, health or animal welfare nevertheless harbor a nostalgic memory for the comfort-food pleasure of the meat that they won't eat any more.
But there's good news for vegetarians and vegans who want life to be more than a boring run of side dishes: There's a variety of humane alternatives that can approximate that experience without Bossy or Porky having to die for their pleasure.
Even better news: A growing number of local eateries stand ready to provide such meatless goodies; and most of these veggie-based choices are so good that everyone can enjoy them.
I'm thinking of at least three broad categories of meat-free "meat" right now:

 First, channeling the Buddhist culinary tradition that emerged in China more than 2,000 years ago, wheat- and soy-based alternatives like seitan, tempeh and tofu can pinch-hit for meat and seafood in mock-meat vegetarian dishes that follow the Buddhist tradition of kindness to all beings. Roots and Heart & Soy continue this tradition here, as do Zen Garden, Half Peach, and Ngon Appetit.
A more modern approach uses commercially produced processed meatless proteins manufactured from soy, peas, and other meatless resources. You'll find this version at Morels Cafe, where Stanley Chase's team turns out delicious tongue-in-cheek vegan takes on Arby's, Chick-Fil-A and more.
And then there's the clever style of V-Grits Food Co., a vegan outfit that bypasses tofu and manufactured protein analogues to creatively fashion dishes from fresh vegetables and magically turn them into surprisingly good imitations of fish, seafood, sausages and more.
Chef Kristina J. Addington, the first vegan chef to win Food Network's Cutthroat Kitchen competition, used her prize money and a crowd-sourcing campaign to start the V-Grits vegan food truck with partner Jeff Hennis in 2014. The name of the operation is a clever acronym for her self-description, "Vegan Girl Raised in the South," and they focus on fresh, made-from-scratch Southern-style vegan comfort food.
Chef Zachary Kerr, a vegan culinary expert, recently joined the team as they added a line of Soul Sauce brand vegan cheeses and spreads. These are now marketed in local groceries, and they've also come up with a line of prepared vegan meal kits available via a weekly subscription service.
Some time soon, perhaps, a sit-down vegan restaurant will round out the mix, but we're already getting delicious previews through V-Grits' frequent Vegan Supper Club gatherings. These food-and-social events take place regularly in the large, glass-walled dining room at ChefSpace on West Muhammad Ali in Russell, a restaurant-business incubator that makes its large commercial kitchen available to food trucks operators and other small culinary business owners.
We got in to a recent evening gathering that featured a vegan Louisiana-style seafood feast - all veggie-based seafood, of course - and found the flavors compelling and the meal more than filling. (Next up, a
vegan Thanksgiving feast
, Nov. 16-17 at 7:30 p.m. Check V-Grits' website or Facebook page for details.)
How does a vegan chef make vegetables and fruit taste like catfish and crab cakes? It takes creativity and skill. The appetizing bill of fare showed how it's done. ...
Read the full review on LouisvilleHotBytes,
http://www.louisvillehotbytes.com/vgrit ... egan-magic
You'll also find this review in LEO Weekly's Food & Drink section today.
http://www.leoweekly.com/category/food-drink/
V-Grits Food Co.
Food truck, commercial kitchen and special events at:
ChefSpace
1812 W. Muhammad Ali Blvd.
627-0446
http://vgrits.com
https://facebook.com/vgrits
https://instagram.com/vgrits