Lupo's pizza and pasta sing a fine Italian song
LEO's Eats with Robin Garr
Lupo's classic Margherita pizza.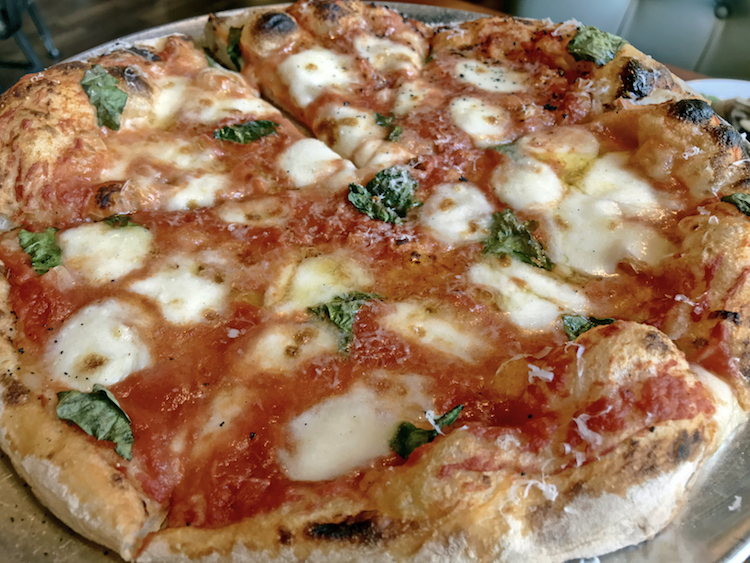 Whatever might prompt two members of an indie rock band with a 17-year record and three songs on the Billboard 200 to leap from the world of music to the hard work of opening an Italian restaurant that features pizza and pasta?
That's just what vocalist and guitar player Adam Turla and cellist-keyboardist Sarah Balliet of the band Murder by Death have done, though. In August they joined Sarah's brother Max Balliet, owner of the popular Holy Molé taco truck, to open Lupo, a fine, casual eatery in a nicely restored 19th century red-brick house on the far inner end of Frankfort Avenue where Clifton meets Butchertown.
Lupo aims to fill a vacant middle ground in the city's Italian-restaurant spectrum, slipping casually under the high-end, fancy service Italian dining rooms but a notch above our plethora of pizzerias and Italian-American family spots. Then they doubled down by bringing a distinct Neapolitan style to the pizzas, harking back to pizza's origin in Naples, a thin-crusted, wood-oven form that's significantly evolved in the many variations of American pie.
Decor is simple and attractive, exposed red-brick walls hung with old movie posters, including an ominous image of Ingmar Bergman's 1968 "l'Ora di Lupo" ("the time of the wolf"), the Swedish master's only horror film. Hardwood floors, undraped tables and wood-and-metal chairs could make for a noisy scene, but acoustical pads overhead hold the noise level down to a dull, happy roar. Three comfy, high-back banquettes line the front-room windows; the back room holds an oversize community picnic table that can accommodate a dozen diners, and a small, cozy bar that seats about six.
Lupo's menu isn't overly long, but it's diverse. ...
Read the full review on LouisvilleHotBytes,
http://www.louisvillehotbytes.com/lupo- ... izza-pasta
You'll also find this review in LEO Weekly's Food & Drink section today.
http://www.leoweekly.com/category/food-drink/
Lupo
1540 Frankfort Ave.
409-8440
pizzalupo.wordpress.com
facebook.com/LupoLouisville
Robin Garr's rating: 90 points