Redecorated Volare brings its top game to Italian delights
LEO's Eats with Robin Garr
Chicken marsala at Volare.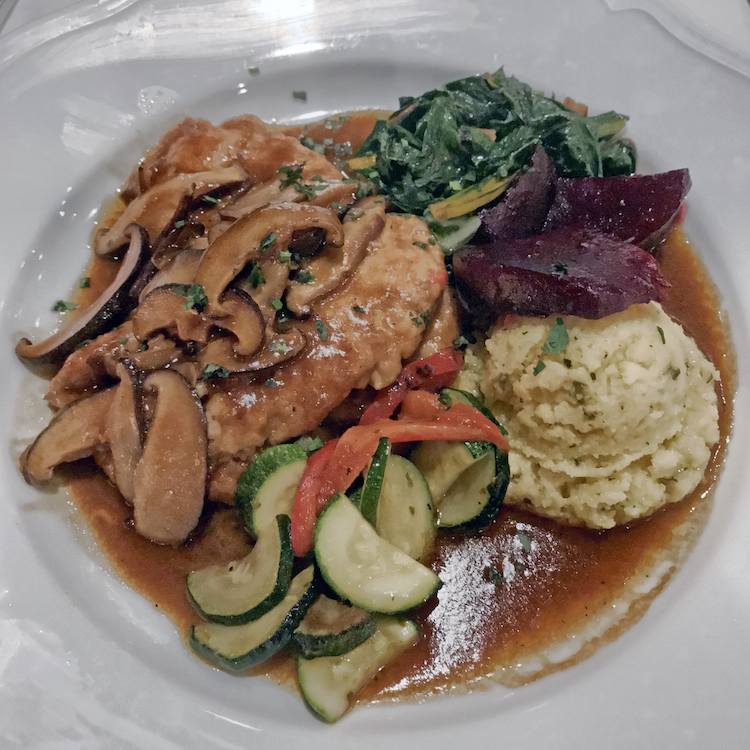 I hate to be a whiner, so before I get to my one complaint, let me tell you all the things that I love about freshly renovated Volare:
• It looks classier than ever, thanks to a light but effective makeover.
• Chef Joshua Moore's menu is better than ever.
• Its impressive selection of pasta dishes has been kicked up by a fancy new Italian-made pasta machine.
• The bar's comfortable vibe is not diminished by sophisticated live music Wednesdays through Saturdays. Volare scores as both a neighborhood hangout and a city-wide destination.
But first we had to get our table. Let's talk about that. When Mary and I and Don and Anne arrived to take up our 7 p.m. reservation, we learned that the previous party at our table was lingering. They'd be leaving soon, the host said, hopefully.
Okay, that's fair. Even with a reservation, I get it that restaurants operate on tight margins, and if you can squeeze in another between 5:30 and 7 p.m., you're going to do it. I can't expect you to hold a table open just for me. But it took 30 long minutes to be seated, hungry and frankly just a little cranky about waiting that long with a reservation on a week night.
It's a problem. Giving the dilatory group the bum's rush just isn't done. But at some point, a little polite conversation is in order, perhaps inviting them to wrap up their evening at a table in the bar. I understand the goal of keeping customers happy, but that's all the customers, both the departing party and the arriving party.
Once seated, beverages from Volare's first-rate bar program quickly adjusted our attitudes - an Oregon Deschutes IPA ($6.50) for Don, and a sweet, smoky Volare Manhattan ($10) barrel-aged in-house for me. Volare's made-over scene retains its familiar mural of Venice's San Marco Plaza and floor-to-ceiling wine rack, yet seems a bit more casually upscale in black and beige tones, with a new art-glass fixture.
Fortified with our drinks, warm Italian bread and a crock of roasted garlic in olive oil, we studied the menu. ...
Read the full review on LouisvilleHotBytes,
http://www.louisvillehotbytes.com/volar ... n-delights
You'll also find this review in LEO Weekly's Food & Drink section today.
http://www.leoweekly.com/category/food-drink/
Volare Italian Ristorante
2300 Frankfort Ave.
894-4446
http://volare-restaurant.com
https://facebook.com/VolareLou
https://instagram.com/volare_italian_restaurant
Robin Garr's rating: 90 points